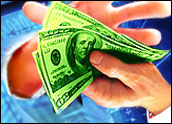 Blizzard's "Diablo III" still doesn't have a confirmed release date, but more details about the action role-playing PC game are starting to emerge, including the announcement Monday that the game will feature an in-game auction house using real cash for transactions between players.
There will be two versions of the auction house used to buy and sell in-game items, such as weapons and armor that strengthen players' characters. One will use in-game gold; the other will be based on real-world currency. Players can choose which currency they'd like to use before any transaction. Either one can be accessed at any point during the game.
In-game economies are not a new concept, as many games feature products to purchase from the developer. Transactions between players have become more common recently as well, but without an officially sanctioned platform, it can bog down the gaming experience. Scam and theft incidents also occur. To cut down on those poor customer experiences, developers decided to try a legitimized platform.
"The developers have allowed 'gold farmers' to profit from their creation, and rather than fight it, they're acknowledging that this is going to happen and attempting to legitimize it," Michael Pachter, managing director of equity research at Wedbush Securities, told the E-Commerce Times.
Template for Future Games
Eventually, once developers and marketers learn to integrate the platforms, gamers can expect to see more legitimate in-game economies in the future.
"This is a template for deeper penetrations and a transitioning of a more transactional-based business. This sets the infrastructure," Todd Mitchell, senior analyst at Brean Murray & Co., told the E-Commerce Times.
Full financial details about the in-game auction house haven't been released, but it is understood that Blizzard will be taking a small transaction fee that will vary depending on region. Blizzard says this decision isn't based on profitability — the game-maker insists it's just hoping to break even at this point.
Still, the auction house is more about profit than anything else, Pachter said.
"It is all about money, not about drawing visitors to a unique gaming experience," he told the E-Commerce Times.
Profitability probably won't arrive for awhile, but "Diablo III" is a well-suited testing ground.
"At this point, they probably will just break even. The goal is to take it in an IP where it's particularly applicable to this sort of thing, with a user base that is particularly core gamer, then you figure out what is the elasticity of price points, and supply and demand and that type of thing and then you mainstream it," said Mitchell.
The auction house idea is already popular with Blizzard's "World of Warcraft" series, and with the right development from Blizzard, the concept could become a popular, if not expected, addition to traditional games.
"This is what Blizzard is good at and what they bring to Activision — this transition to digital platforms," said Mitchell.
Must Have: Internet
The announcement came with the news that the game will now require a constant Internet connection to play, since the characters a user creates will be saved in Blizzard's servers. The move is designed to level the playing field on the new economic system and combat hackers and cheaters — a prominent problem in the previous "Diablo" editions. The move will also cut down on pirated versions of the game.
With the Internet connectivity requirement, the game runs the risk of losing certain players — those using a laptop on a plane, for instance. The decision sparked angry comments on gaming message boards Monday, but the company says the Internet connection requirement will make the game safer.
It also highlighted other features the constant Internet connection will enable, such as a persistent friends list, cross-game chat, larger storage capacity, easier transitions between single and multi-player formats and, of course, the auction house.