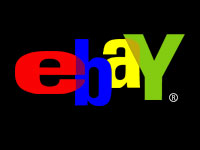 Online auction house and retailer eBay announced a profitable third quarter on Thursday but warned an already-volatile Wall Street that continued weakness in consumer spending would hurt sales throughout the rest of the year.
The company reported Q3 earnings of US$492.2 million, compared to a loss of $935.6 million during the same period a year ago.
The bad news was a disclosure that its year-over-year gross merchandise value — the total sum of all transactions on the site — dropped by 1 percent during the quarter to $14.28 billion. The drop in GMV was the first ever reported by the San Jose, Calif.-based e-commerce pioneer.
Despite the company's grim outlook, eBay reported $2.12 billion in third-quarter revenue, a 12 percent increase over the same period a year ago. The boost in revenue was driven mostly by growth in online advertising and eBay's PayPal business.
In early afternoon trading, eBay's share price hovered between $14 and $15 per share, down significantly from its 52-week high of $40.68 per share.
Big Problems at eBay
Undoubtedly, eBay is suffering from the overall decline of the national economy and a sharp reduction in consumer spending. However, the company also must contend with serious internal issues.
"They haven't been able to reinvigorate consumer demand, despite the changes they've made to their business," Steve Weinstein, an equity analyst at Pacific Crest Securities, told the E-Commerce Times. "There are problems that have plagued them for years, such as not policing the site [for counterfeit merchandise], and increasing their fees."
The company has also been hit with a double whammy in terms of competition and changes in online consumer behavior. First, many other online auction houses have simply gotten better at what they do, improving their customer service and streamlining the auction process. Second, many consumers no longer want to take the time to go through the auction process to obtain items over the Web, noted Weinstein.
"Now, pretty much everyone knows you can buy anything you want online and get a good price," he said. "[eBay is] struggling to carve out a new role in mainstream e-commerce."
Driving Sellers Away
Online sellers have also begun to shy away from eBay because the company has hiked up its fees for selling items online a number of times over the last few years, Tim Boyd, an equity analyst with American Technology Research, told the E-Commerce Times.
"They squeeze their sellers for way too much," Boyd said. "They've raised fees way too many times. And the site is a mess compared to other e-commerce sites like Amazon.com. Why don't they have a shopping cart, for example?"
That said, the toughest part of eBay's financial announcement Thursday was the less-than-sanguine outlook it provided for the rest of the year.
"The quarter was all right, but the guidance was pretty bad," Boyd said. "The single biggest negative was that eBay's [gross merchandise value] was down 1 percent year-over-year. The stronger dollar had a lot to do with that, but the bottom line is that their core business is in decline. We expected to see that in the next few quarters, but not this soon."