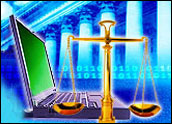 Traditionally, requests for permanent injunctions were treated similarly in both patent and trademark infringement cases, generally being granted almost automatically any time a patent or trademark owner proved infringement.
Recent cases, however, have called this parity into question. As reported in the January 2008 KLIP Alert, the Supreme Court removed the presumption of a near-automatic grant of injunction in patent cases, clarifying that trial judges should instead apply the traditional permanent injunction four-factor balancing test in considering whether to enjoin the infringing activity or to, in essence, force a compulsory license. eBay Inc. v. MercExch., L.L.C., 126 S.Ct. 1837 (2006). Prior to eBay, instead of looking to the specific facts of the case and balancing the equitable factors, courts simply presumed irreparable harm anytime patent or trademark infringement was shown (or in the case of a request for a preliminary injunction, when a likelihood of success on the merits was shown).
Trademark Applicability
eBay was explicitly directed to injunctions in patent cases, leaving open the question of its applicability to trademark infringement cases (as well as other forms of intellectual property litigation). Most courts have continued to apply pre-eBay rules in trademark cases, with some courts affirmatively rejecting requests to apply eBay in the trademark infringement context.
For example, a California district court expressly rejected applying eBay in favor of pre-eBay rules in granting a preliminary injunction for trademark infringement. Canfield v. Health Communications, Inc., 2008 WL 961318 (C.D. Cal. Apr. 1, 2008). The district court cited a Ninth Circuit Court of Appeals opinion that applied pre-eBay rules in a post-eBay decision. Abercrombie & Fitch Co. v. Moose Creek, Inc., 486 F.3d 629 (9th Cir. 2007). Other courts have noted the four-factor test for permanent injunctions reiterated in eBay, but have continued to apply a presumption of irreparable harm, in effect rejecting the application of eBay's holding beyond the patent context. See, e.g., Burgess v. Gilman, 475 F.Supp.2d 1051 (D. Nev. 2007); Microsoft Corp. v. McGee, 490 F.Supp.2d 874 (S.D. Ohio 2007).
Presumption of Harm
The Southern District of New York has continued to apply a general presumption of irreparable harm based on the likelihood of success on the merits in trademark cases. See, e.g., Artisan Mfg. Corp. v. All Granite & Marble Corp., 2008 WL 2201467 (S.D.N.Y. May 19, 2008). In granting a preliminary injunction, Judge Pauley reiterated the longstanding rule that "a requisite showing of success on the merits generally establishes a risk of irreparable harm."
Recently, Judge Stein expressly rejected a request to apply eBay to the presumption of irreparable harm in the case of copyright infringement. Lennon v. Premise Media Corp., 2008 WL 22622631 (S.D.N.Y. June 2, 2008). Judge Stein cited to the Second Circuit's application of the presumption of irreparable harm in the context of a post-eBay request for a preliminary injunction in a false advertising case. Time Warner Cable Inc. v. DIRECTV, Inc., 497 F.3d 144 (2nd Cir. 2007). Most recently, Magistrate Judge Katz cited the four-factor test of eBay in granting a permanent injunction for trademark infringement, but then applied a presumption of irreparable harm. JA Apparel v. Abboud, 2008 WL 2329533 (S.D.N.Y. June 5, 2008) (the subject of the June 2008 KLIP Alert).
Change of Heart
There are signs, however, that some courts are changing their thinking about the relevance of eBay beyond the patent infringement context. In a case involving a request for a temporary restraining order to stop a restaurant's use of a fast food chain's trademarks, a court noted that "[t]he parties agree that after the Supreme Court's decision in eBay Inc. v. MercExch., L.L.C., irreparable injury is no longer presumed from a finding of likelihood of success on the merits of a claim of infringement of trademark or trade dress claim." In-N-Out Burgers v. Chadders Restaurant, 2007 WL 1983813 (D. Utah June 29, 2007).
More recently, the Eleventh Circuit considered applying eBay to trademark infringement, noting that "[eBay] calls into question whether courts may presume irreparable harm merely because a plaintiff in an intellectual property case has demonstrated a likelihood of success on the merits." North Am. Med. Corp. v. Axiom Worldwide, Inc., 522 F.3d 1211 (11th Cir. 2008). The Eleventh Circuit cited as reasons for applying eBay the strong similarities of language between the Patent Act and the Lanham Act (which governs trademark infringement), and stated that "a strong case can be made that eBay's holding necessarily extends to the grant of preliminary injunctions in the Lanham Act."
However, the 11th Circuit left it for the district court to decide if eBay requires a rejection of a presumption of irreparable harm in trademark infringement cases. The Fifth Circuit has recognized the 11th Circuit's argument, but has chosen not to decide this "difficult question" at this time. Paulsson Geophysical Servs., Inc. v. Sigmar, 2008 WL 2152671 (5th Cir. May 23, 2008).
What Does This Mean for You?
The authors expect that the various Circuit courts will eventually reach consensus on the applicability of eBay to trademark injunctions.
If, as we expect, they find that eBay does apply to trademark cases, then the bar for obtaining preliminary injunctions and post-trial permanent injunctions will be significantly raised in trademark cases, requiring actual evidence of irreparable harm such as incalculable lost sales or damage to the plaintiff's brand and reputation.
---
Randy Lipsitz
is a partner,
Richard Moss
is special counsel and
Aaron Frankel
is an associate, in the intellectual property department in
Kramer Levin Naftalis & Frankel's
New York office.
Aakash Jariwala
assisted in the preparation of this article.
---