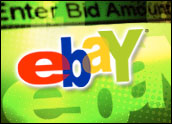 Online auctioneering pioneer eBay announced it will slash 1,000 jobs and acquire online payment processor Bill Me Later for US$820 million in cash and $125 million in outstanding options.
The 1,000 layoffs will cut San Jose, Calif.-based eBay's total workforce by 10 percent and will result in a pretax restructuring charge of about $70 million to $80 million, most of which will be recorded in the fourth quarter.
"While never an easy decision to make, these reductions will help improve our operations and strengthen our ability to continue investing in growth," said eBay President and CEO John Donahoe.
The company expects to hit the low end of its third-quarter revenue guidance and exceed third-quarter earnings per share guidance.
eBay is scheduled to announce third quarter financial results on Oct. 15.
Losing Market Share
Though once the dominant player in the online auction market, eBay has been slipping.
"Our view has been that eBay has been suffering from fairly significant market share losses over the last few years — in particular, in its core market," Derek Brown, an equity analyst with Cantor Fitzgerald, told the E-Commerce Times.
A slowing economy and a downturn in consumer spending have posed increasingly difficult challenges."We think those things have slowed the growth rate at eBay," Brown said.
eBay has lost market share across the board.
"At the lower end of the eBay market, there's been erosion to services like Craigslist and local newspapers," Gene Alvarez, an analyst with Gartner, told the E-Commerce Times. "If you're not an active seller, then there are a lot of players that offer free classified ads."
eBay is also losing market share to larger competitors such as online retailing giant Amazon.com, which launched an online marketplace where users can sell their own items years ago.
"Amazon offers new and used products," Alvarez said. "Those are products that once sold only on eBay."
Bill Me Later
The acquisition of Bill Me Later gives eBay control of two of the largest online payment processing companies — the other being PayPal.
"We are making aggressive moves to strengthen our leadership positions in e-commerce and payments to competitively position our company for long-term growth," eBay's Donahoe said. "Bill Me Later is a perfect complement to our portfolio, a company that belongs with PayPal."
Bill Me Later adds functionality and a customer base that PayPal has not yet really penetrated, said Cantor's Brown, who has given eBay's stock a sell rating.
"It seems as if eBay paid a reasonable price for Bill Me Later," he added.
However, the PayPal portion of eBay's business has not panned out the way the company originally hoped, according to Gartner's Alvarez.
"eBay had also hoped that PayPal would become a viable payment engine for non-eBay Web sites and that it would act as a credit card processor for other e-commerce sites," he said. "Of the major sites, I'm not seeing PayPal as an option. Credit cards seem to still be the primary payment method for the major e-commerce Web sites."