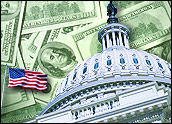 The Department of Commerce's National Telecommunications and Information Administration is setting aside close to US$1 billion to help consumers who will be forced to migrate to digital television after Feb. 17, 2009 — when analog broadcasting is scheduled to cease.
The Digital Television Transition and Public Safety Act of 2005 also provided for the Digital-to-Analog Converter Box Coupon Program that will subsidize consumers' purchases of converter boxes.
These will sit on top of their analog television sets to receive digital signals. People will be able to request up to two $40 coupons to pay for the boxes.
'A Historic Change'
"The transition from analog to digital television is a historic change and brings with it considerable benefits for the American consumer," said Secretary of Commerce Carlos M. Gutierrez.
"The coupon program is designed to help ease the transition to digital TV. Not only will the transition help expand consumer choices, but more importantly, the digital transition will enable more efficient use of the nation's airwaves providing new advanced wireless services and increased public safety services for all Americans," he added.
Forced Migration?
Of course, few middle class consumers will be "forced" to make the jump to digital television.
Home technology is one of the fastest growing retail purchases, Steven Ostrowski, a spokesperson for CompTIA, told the E-Commerce Times.
"The 'smart home,' or the 'connected home' concept is no longer limited to the rich and famous. We're seeing mass-market acceptance and demand for advanced technologies in the home," he explained.
Disenfranchising the Poor
Nevertheless, there are millions of Americans who cannot hope to achieve such buying power.
Consumer advocates have decried the Act as one more way in which the poor will be disenfranchised from the rest of society.
For instance, while the NTIA is providing, in essence, an $80-per-household subsidy, consumer advocates have pointed out that the likely retail price of these boxes could be as high as $75 per unit.
NTIA Reaches Out
NTIA is trying to ensure that its subsidy program does reach everyone who will need it, the group stated.
For instance, the Act also permits funding to increase by $510 million if the initial allocated amount of $990 million proves to be insufficient.
"Besides our own consumer education efforts, NTIA is working with partners such as broadcasters, consumer electronics retailers, manufacturers and consumer organizations to reach out to those most in need of the coupon program," stated Assistant Secretary for Communication and Information John Kneuer.
"We welcome partners and ask that interested parties contact our office at (202) 482-6260 to learn how they can help inform the public about the coupon program," he noted.