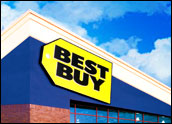 Best Buy reportedly is attempting to keep sales from walking out the door by offering to match its online competitors in price and shipping deals during the upcoming holiday season.
The electronics retailer will give employees discretion to match the price a customer finds on Amazon or other major online sites in an effort to close more sales inside its brick-and-mortar doors, according to reports.
In order to get the deal, the customer must ask a store employee, who will be able to judge whether to offer the discount. The employee will be allowed to give a discount if the deal is from a list of authorized retailers, including Amazon and Walmart, but excluding more obscure third-party sellers.
If the product is out of stock in stores, the company will offer free shipping on the item in hopes of closing the sale.
The offer will be available from Nov. 4-17 and again from Nov. 27-Dec. 24, skipping over the Black Friday and Cyber Monday shopping frenzy and ending just in time for last-minute Christmas gifts. It will apply only to appliances and electronics.
Best Buy did not respond to our request to comment for this story.
Taking on E-Commerce
Best Buy's latest holiday deal is an effort to prevent potential sales from migrating away from its brick-and-mortar locations. With the growth of online and discount giants such as Walmart and Amazon, Best Buy's sprawling store spaces are sometimes viewed as showrooms for consumer gadgets rather than lucrative retail hubs.
The retailer has struggled financially recently, earning just US$12 million during its last fiscal quarter, compared with $177 million a year before. Earlier in the year, the company introduced a corporate strategy aimed at cutting costs, including shuttering 50 stores nationwide.
Its founder and largest stakeholder, Richard Schulze, has made moves to take Best Buy private and restore its profitability. After leaving the company in June, Schulze made a buyout offer, but he has yet to secure financing and so far, the board hasn't accepted his offer.
Although the company has attempted to downplay the effects of online competition and a tough retail economy, it's clear that Best Buy is looking for a way to increase in-store sales this holiday season, said Doug Fleener, president and managing partner of Dynamic Experiences Group.
"I think this is something that Best Buy had to do to keep from losing even more market share," he told the E-Commerce Times. "I believe that showrooming in retail as a whole has been overblown, but it has had more of an impact on consumer electronics than any other market segment. This will no doubt increase their conversion rate."
At What Cost?
The strategy has its flaws, Fleener noted. By limiting the list of eligible competitors, relying on employee discretion, and suspending the deal during key shopping days, Best Buy could annoy customers. The process could also slow checkout lines during the already busy season. Ultimately, though, it could help the company sell more products, even if they're at far cheaper prices. That could be a spark Best Buy needs now.
"It will lose some margin, but Best Buy is smartly willing to give some of that up to capture the sale and keep the customer," Fleener said.
However, the company can't give up that kind of margin forever, at least not in its current financial state, said Bob Phibbs, who provides retail consulting as The Retail Doctor. Offering such a compelling deal could backfire when it can't keep up with the shoppers who still want a discount come January.
"If you are willing to match price, you let competitors determine your profitability," he told the E-Commerce Times, "and if customers know that, you're only encouraging that behavior. This is not a sustainable strategy with the overhead Best Buy has, and limited time will mean nothing to consumers — there will be no going back."