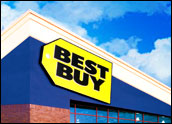 Best Buy has reached an agreement with its founder and former chairman, Richard Schulze, who owns a fifth of Best Buy's shares. The accord could help facilitate a potential US$8.8 billion buyout of the retailer.
As part of the agreement, Schulze will be granted access to certain due diligence information. He has also been given permission to form an investment group with private equity sponsors.
A Roadmap of Many Possibilities
The agreement also allows for Schulze and his potential partners to put forth a definitive acquisition proposal within 60 days after the due diligence period begins. The period could be extended in certain circumstances.
The agreement mandates that if the Best Buy board of directors rejects a proposal he might make, Schulze will not pursue an acquisition until January 2013.
After that point, Schulze would be free to present a second transaction proposal. The board will then have 30 days to review it. Then, if the Board rejects his proposal, Schulze will be able to take the offer directly to shareholders at the 2013 annual meeting or at a special meeting.
If none of this works, Schulze has agreed not to pursue an acquisition for one year.
In exchange, the board has promised to offer Schulze two board seats. But if he goes directly to shareholders with a transaction proposal or if he violates the standstill provisions of the cooperation agreement, he will not get the seats.
Best Buy did not respond to our request for further details.
A Better Focus
It sounds like a lot of hurdles to jump, but Schulze will probably jump them, said James Brehm, senior strategist and consultant with Compass Intelligence.
"He has been watching the company he founded struggling and has been spending more and more time at the office over the last year and a half, as it became apparent Best Buy was in trouble," Brehm told the E-Commerce Times.
"I don't think he has liked some of the moves they have made in the last few years, and if he gets control of the company I think we will see a more focused Best Buy," he added.
Schulze wasn't a fan of the company's push to be all things to all people, with the expansion into Geek Squad and automotive aftermarket service, Brehm said.
"Best Buy has been on the cutting edge, but it has also been too far out on the bleeding edge as well," Brehm added.
Back to the Basics
If he gets control, Schulze will bring Best Buy back to the basics, Brehm predicted. "That would be incredible customer service, incredible focus and top supply-chain management."
Customer service has deteriorated the most in recent years, he said. "I think what he will emphasize, if he is able to get control, is customer service with a friendly touch and not the hard upsell."
Certainly Schulze's re-emergence on the scene is illustrative of a founding entrepreneur that has become disgusted over what has happened to his baby, David Cadden, a professor of management at Quinnipiac University, told the E-Commerce Times. "Now he feels as though he is the only person to bring the company back around."
Bricks and Clicks
But no matter how much loving care Schulze lavishes on Best Buy, he will have to solve a problem that has bedeviled large retailers for the last 10 years or more, Cadden said: How to compete with e-tailers?
"Best Buy's problem is the same with all large stores that specialize in products that are moving to commoditization. They are stuck with the fixed overhead of maintaining these stores and, at the same time, are having their lunch eaten by online stores like Amazon."
For Schulze to carry off a turnaround he will have to figure out a successful bricks-and-clicks formula for Best Buy, Cadden said.