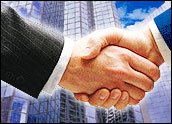 There was rather an exact price offered and accepted for About.com. OnSunday The New York Times Company announced that it had sold thequestion and answer website to Barry Diller's InterActiveCorp (IAC)for US$300 million in cash.
The site's early expertise in search engine optimization and revenues from cost-per-click and display ads made it avaluable component of NYTCo's portfolio for the past seven years, Times Chairman Arthur Sulzberger Jr. said. Now that it's sold About, the New York Times Company will now focus on developing its core brands, he added.
About.com, which was founded in 1996 as The Mining Companyand launched in 1997, originally maintained about 1,800 topic areas, anumber subsequently reduced to 700 before the site was sold to The NewYork Times Company in 2005. While the site was used tolaunch Abang.com into China, the first fully owned editorial productof The New York Times to enter China, About.com's profits slippedafter Google adjusted its search algorithm in 2011.
"It didn't appear that the New York Times continued to invest inAbout.com," said Greg Sterling of Sterling Market Research. "Inaddition, the property got hit by several of Google's panda algorithmchanges, and SEO-driven traffic suffered. That was the primary sourceof traffic for the site."
About.com did not respond to our request for further details.
Ask and Answer
Given that About.com had been seeing its ad revenue slip, it perhaps isn'tsurprising that the Times had looked for a buyer. However, just a month ago, it looked as thoughAnswers.com, which had signed a letter of intent to purchase About.comfor $270 million, would be the new owner, rather than IAC. Answers.com President Peter Horanhad previously been the CEO of About.com and likely saw a synergy withthe two sites.
However, IAC jumped in, possibly seeing a similar synergy between About.com andits question-and-answer service Ask.com.
About Time
This also suggests a new direction for The New York Times Company, which alsoowns The Boston Globe and has a stake in the International HeraldTribune.
"In the end, About.com became something of a liability to The New YorkTimes, more than the asset that it was expected to be," said Sterling.
It also shows that the Times, which recently hired former BBC headMark Thompson as CEO, won't stick with properties indefinitely, goingso far as to sell the information site at a loss.
"Under new management, New York Times is paring down and focusing on coreproperties," said Josh Crandall, principal analyst at NetPop Research."Purging About.com shows that the property wasn't building momentum onits own and pulling management away from other priorities. Losing morethan $100 million on the sale must be hard on the publishing company,but these are times for tough decisions in their world."
About.com will also likely fit better with its new owners at IAC.
"While the sale is certainly a loss for the Times, IAC may on toanother arrow for its quiver." Crandall told the E-Commerce Times."About and Ask are symbiotic properties that consumers willincreasingly turn to for answers to their questions."