In an E-Commerce Times poll conducted from March 25 to April 1 of this year, only 4.32 percent of respondents said there was always enough information on the first page of search results to meet their needs. By comparison, 14.05 percent said they found the first-page search results were rigged and limited by algorithmic highlights.
---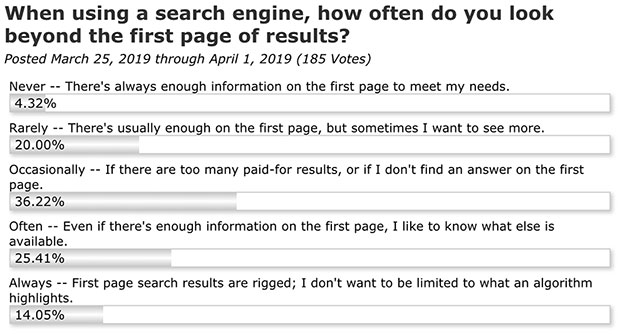 ---
More than one quarter, 25.41 percent, said even if the first page provided enough information, there was still reason to see what else might be available. Twenty percent said they usually found enough on the first page but sometimes wanted to see more. A total of 36.22 percent of respondents said if they saw too many paid-for results or if they didn't find an answer on the first page, they'd go deeper.
Although ECT News Network reader surveys are not intended to be scientific, the results of the SEO poll are particularly interesting because they contrast so sharply with the standard search engine optimization pitch — which is that hitting the first page is absolutely necessary.
"In the SEO industry, we say, 'If you want to bury a body, put it on page two,'" said Andrew Shotland, CEO of the Local SEO Guide.
"There are definitely clicks that happen beyond page one of Google results, but it's a significantly lower percentage," he told the E-Commerce Times. "In general, no one is 'shooting for page two' unless they are on page three."
Next Page
Just as titans of industry, celebrities, and politicians like to see themselves on the front page of a newspaper — at least when the story is good or favorable news — so too do businesses want that coveted first-page search result today.
Obviously, every SEO marketer strives for first-page results — but what about the billions of results that don't end up on the first page? Do they have any value?
"Yes, they definitely have value — just not as much perceived value as the others," said Joy Hawkins, founder of the SEO firm Sterling Sky.
"This is often why we find SEO should be an ongoing investment vs. a one-time shot — because getting to the first page is half the battle, and staying there is the other," she told the E-Commerce Times.
"We're finding that if you aren't constantly adding value to your site by updating content and making it better or getting more links to your site, it's hard to stay on top," Hawkins added.
Staying on Top
Getting the coveted first page isn't impossible, but there is work to it — a lot of work. Understanding how search engines function is crucial, and this is why there are now many firms that specialize in SEO.
"What's important to remember about the way Google's algorithm works is, if your best result isn't on the first page, it's failed," maintained Eric Yaverbaum, CEO of New York public relations firm Ericho Communications.
Google's first metric is always relevance; it serves up optimally relevant content for the plain intention of your search, observed Yaverbaum.
"I hesitate to say that second- and third-page results have no value, but ask yourself how often you click past the first page," he told the E-Commerce Times.
"Google is quite good at not only delivering search results but answering questions without you even needing to click on a result," Yaverbaum added. "That's critical here — Google as question-answerer more than a search engine. That means anything that doesn't accomplish that simple goal immediately gets shunted off the first page. Which means you rarely need to dive deeper."
Understanding the Optimization
The key part of SEO is very much the "optimization." Many fly-by-night operators — the ones that send out random emails explaining ways your website could be easier to find (although it nevertheless was found by them) — promise magic results. Yet the truth is that much of what they peddle is akin to silicon snake oil.
"SEO in the age of contextual search is so close to being impossible that I honestly think it's hardly worth talking about," admitted Yaverbaum.
"You want first-page results. The best way to do that is to be the most-relevant result for a searcher's needs," he said.
Today, the way Google prioritizes its results goes far beyond anything most website builders have any power over. It includes everything from what else a user has searched about recently to the individual's location to the time of day, Yaverbaum explained.
All of these factors affect the search results Google serves up, which are generated on the fly. It is difficult, if not impossible, to control all of them.
"The trick, then, has got to be to focus on being a solution, not being a result," Yaverbaum emphasized. "You can't really game Google anymore, and you haven't been able to since at least 2015. Anyone talking like they've cracked the algorithm is someone who thinks that it's still 2005. You can't just jam in keywords or put in the right H1 tags to get Google's attention. It just doesn't work like that anymore."
The Different Search Engines
The right SEO campaign can help make a difference, of course, but much of the discussion today revolves around Google. The question is how to get equal or even better rankings on the other search engines — notably Microsoft's Bing.
They don't have the reach of Google, and in the past, striving for a top rating on one could impact your ranking on another. That has changed in recent years, however.
"Regarding targeting other non-Google search engines, each engine has its own algorithms, but there aren't many things I would say to do specifically for any search engine other than Google," said Local SEO Guide's Shotland.
"All of them are based on the following high-level principles: Get relevant links from other sites to your pages; provide content on your pages that answer searchers' questions/needs, etc.; make sure your content is both accessible and easily understood by machines," he said.
"For DuckDuckGo specifically, we see that getting referenced on other sites it uses as data sources makes it more likely your content will appear in that index and rank well," Shotland pointed out.
"For Bing, we see making it easy for Bing to find only the content you want it to use, and none of the no-SEO-value URLs seems to work well," he added. "Search engines have to look at trillions of web pages to find good content, so making it easy for them to find your content is critical."
Google Dominance in Search
Given Google's dominance, it's questionable whether it even pays to bother trying to get highly ranked on DuckDuckGo, Bing, or any other search engines and directories.
"We do not do much to optimize specifically for Bing/Yahoo since we have found that it is responsible for only about 1 percent of the conversions our clients get from their website," said Sterling Sky's Hawkins.
However, there are reasons these alternatives to the big G shouldn't be ignored.
"DuckDuckGo is definitely one we are paying attention to, and we are noticing more conversions from our clients there recently. They source their local results from Apple Maps, and Apple uses Yelp reviews, so this is more of a reason for small businesses to pay attention to how they appear on Yelp," Hawkins added.
However, even "talking about search engines in 2019 seems like stepping back in time. Google dominates search to such an absurd degree, optimizing for DuckDuckGo is a waste of time and money," countered Ericho's Yaverbaum.
The real power for brands is in social, not in search, he suggested.
"Not only do recommendations from friends have more weight than advertising, but social's ultra-targeting means that your ads, even absent user-generated recommendations, are going to be seen more and more and more by the right people," Yaverbaum said. "Think about social media as a new kind of search engine: a user-fueled recommendation engine with its own optimization processes. That's the best way to break into a crowded marketplace."
Going Mobile
Where the market is changing is in the way the Web is viewed. Last year mobile even surpassed the desktop for Web usage. There shouldn't be a difference in search results, but that isn't the case — and mobile search results are different from desktop results.
"We're finding the variances between what you see on mobile and what you see on a computer are growing," said Hawkins.
However, "Google places an enormous amount of weight on mobile optimization, and it's critical to stop thinking of the two areas as different," advised Yaverbaum.
The end game is the same — to drive traffic to the site. Although mobile and desktop versions shouldn't be regarded as different sites, there are aspects of each experience that set mobile and desktop apart.
"The two major differences between desktop and mobile SEO are screen size — mobile is obviously smaller — and users' and Google's tolerance for slow site speed," said Shotland.
"You really have to make site performance a top priority if you want to do well with mobile SEO and mobile websites in general," he added.
Websites need to optimize not just for search results but for mobile applications as well.
"Half of all Internet traffic is already mobile, to begin with, and web results that aren't mobile-optimized aren't even going to be served up to those users, Yaverbaum explained.
"It means you have to make sure both Web and mobile experiences are everything they need to be," he added. "Google knows if you're slacking off; they've become sort of an automated curator of optimal content, and the machine you're using to view it is a big part of how they operate."
Going Local
Another aspect of understanding the importance of SEO is knowing what audience the website is trying to reach. A small book retailer on Main Street can't expect to dethrone Amazon. Coming in first on a search results page might not really benefit a shop that does little to no mail-order business.
Here is where the issue of local SEO needs to be understood.
"Because local search on Google — which controls 90-95 percent of local discovery searches — is so focused on the user's location, virtually every listing at Google has a chance to show," said local search marketer Mike Blumenthal, cofounder of GatherUp.
"More and more, Google is providing the information right in the search results that most users need to make a decision about any given business," he told the E-Commerce Times. "For a local business to be successful, it has to move beyond pricing and delivery into the area of customer experience."