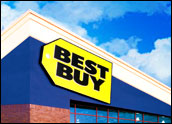 Best Buy Founder and Chairman Richard Schulze announced Thursday he is leaving the company immediately and plans to explore all available options for his 20.1 percent ownership stake in the electronics retail chain.
His departure comes two months after former CEO Brian Dunn left the company under a cloud of scandal and as the retailer faces increased competition from online sellers and discount vendors.
Schulze founded Best Buy and led the company as CEO, chairman and director for 36 years until 2002. After 2002 he served as chairman and director. In May, following Dunn's departure, Schulze announced he would step down as chairman after the company's annual meeting on June 21 and would continue as a director until the 2013 meeting.
In light of Schulze's earlier-than-expected departure, the board elected Hatim Tyabji, the chairman of the audit committee and a director since 1998, to succeed Schulze immediately.
Schulze first announced his departure as the board released the findings of an independent investigation relating to former CEO Brian Dunn's exit from the company. Dunn left after it was reported he engaged in an inappropriate relationship with a female employee. The investigation found that Schulze confronted Dunn about the allegations, which Dunn at that time denied. Schulze did not report the meeting between himself and Dunn to the board.
Best Buy didn't respond to our request for further details.
Exploring All Options
It's unclear what plans Schulze has for his stake in Best Buy. H said he would "explore all available options" for the 20.1 percent he controls, raising questions about what those options might be.
"He could be seeking to do a leveraged buyout to take more control over the company," Rob Enderle, principal analyst at Enderle Group, told the E-Commerce Times. "Often a founder will try to come back and save the firm they created."
While the drive of a founder is an undeniable force, Enderle said, a retailer such as Best Buy often needs more than company loyalty.
"Sometimes this works, but often not, because the founder is too out of date," he said. "But he clearly has passion for the property and they need someone with passion and some retail experience to turn this around."
Ultimately Schulze might choose to take his stake and move on, said Anthony Chukumba, senior research analyst at BB&T Capital Markets.
"I believe a leveraged buyout transaction is unlikely," he told the E-Commerce Times. "This is the act of someone who has not agreed with some of the moves that have been made, he was not on the search committee for the new CEO. It could come down to him liquidating his stake in the company and riding off into the sunset."
That's especially likely, said Chukumba. While a 20 percent stake is sizable, it's not a majority position, and Best Buy shareholders have frequently butted heads recently.
"He's been marginalized, quite frankly." he said. "He's a large shareholder but there's another 80 percent of the stock that he doesn't own, and there's been a bit of a disconnect between what he wants and what the other shareholders want."
Best Buy's Future
If Schulze sells out, whomever buys in will be taking hold of a company faced with mounting competition from online retailers such as Amazon and discount vendors like Wal-Mart. Before he left, Dunn closed 50 big-box stores and continued to ramp up efforts to move toward an online business model. In April, the company reported a US$1.7 billion loss on the quarter.
Schulze himself said that there was an urgent need for Best Buy to reconnect with customers.
The company has turned into more of a showroom for consumer gadgets rather than a marketplace for one, said Enderle, a model that must change if Best Buy wants to have any success in today's retail world.
"Best Buy has become where people go to pick products they buy someplace else," said Enderle. "The company has to find a way to fix that, and I think they should take a hard look at Amazon and Apple for successful models here."
The company does have a few things on its side, however, said Chukumba. Suppliers are losing out as companies such as Amazon increase their sales, he said, making a showroom like Best Buy valuable.
Best Buy is "really large, they are still profitable, and they have a lot of leverage with their suppliers," he said. "There's also an effort for unilateral pricing and Amazon having to pay state sales tax, so there will be some leveling of the playing field there. As quickly as things are changing, Best Buy has time on their side to figure out a way to get there."