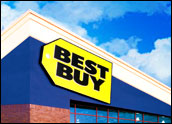 Best Buy founder Richard Schulze has submitted a written proposal to buy the electronics retail chain in a deal that would value the company at as much as US$8.8 billion.
Schulze is currently the company's largest stakeholder with about a 20 percent share of the business. He stepped down as chairman of the company he founded in June amid a scandal involving CEO Brian Dunn and a female employee.
At the time, he declared that he was exploring all his options for his 69 million shares. Since then, Schulze has reportedly made moves to assemble a team of financial backers and possible fellow executives. On Monday, he wrote current Best Buy Chairman Hatim Tyabji and offered to pay $24 to $26 per share in cash to buy the company he founded, valuing the business at as much as $8.8 billion. The price is based on the stock's Aug. 3 closing price of $17.64 per share.
Best Buy confirmed that its board received the letter Monday, calling it an "unsolicited, highly conditional indication of interest," from Schulze, the company said in a statement provided to the E-Commerce Times by Susan Busch, senior director of media relations. The board will "review and consider the letter in due course."
Not Biting
It's unclear how seriously the board will review Schulze's offer, however. The board has already made moves to block Schulze from various buyout avenues. After his resignation, the board upped the minimum threshold of ownership required for a shareholder to call a special meeting related to change of control from 10 to 25 percent. It kept the company's policies in line with Minnesota state law — and also prevented Schulze from being able to call his own meeting with the board.
The company's interim CEO, Mike Mikan, also appears to be vying for the permanent position. He outlined a growth plan for the company at the last shareholder meeting that included shrinking the size of stores and expanding employee training.
Even if the board would entertain the idea of a Schulze buyout, it probably wouldn't bite at his current offer, said Anthony Chukumba, senior research analyst at BB&T Capital Markets.
"Even at the higher end with $26, that's 9 percent below the 52-week low," he said. "Investors are likely going to take their chances with a soon-to-be-named CEO and whatever turnaround plan that person has. The probability is still low of a buyout, maybe going from about a 5 percent to 25 percent, but I don't think that $24 to $26 gets it done."
Good Buy for Best Buy?
Schulze didn't indicate in his letter that private equity firms or investors were sure to shell out the cash needed to buy the company, said R.J. Hottovy, analyst at Morningstar. Schulze notes that his financial advisor, Credit Suisse, is "highly confident" that it can arrange the financing, although he lacks a guarantee.
"There are still a lot of questions about whether or not he would have the financial backing," Hottovy told the E-Commerce Times. "And if he does, there might be current shareholders that believe he could turn the business around, but $24 to $26 per share isn't going to be enough."
Schulze said in his letter that he has done an "extensive amount of work" on a plan to address the company's needs, including meeting with private equity firms and former Best Buy senior executives such as Brad Anderson and Allen Lenzmeier.
The retailer, he added, needs "bold and extensive" changes to remain a competitor in the space, but he didn't indicate what strategic plans he might have in mind. Considering the company's current struggle to stay relevant as online and discount retailers such as Amazon and Wal-Mart experience a rise in sales, Schulze would need a better pitch to finally win over the resistant board.
"There wasn't anything in his letter about what he strategically plans to do with the business," said Hottovy. "These were the guys responsible for building the big-box stores and other moves that made the company what it is now, so there are a lot of questions about whether or not these are the right people to lead a turnaround."