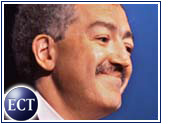 PalmSource, provider of Palm OS, an operating system powering next generation mobile devices and smartphones, today announced Eric Benhamou will step down as chairman of the board of directors, further separating two parts of what had been PDA maker Palm.
Benhamou is expected to continue to serve as chairman of the board for palmOne.
Palm was renamed to palmOne after it split off operating system maker PalmSource in October 2003 and acquired rival Handspring. Benhamou has continued on the boards of both PalmSource and palmOne since the spin-off.
"PalmSource and palmOne have firmly established themselves as separate, publicly traded companies," Benhamou said.
Two Independent Companies
"Their relationship has now fully transitioned to the scope and processes appropriate for two independent companies. Their boards, too, must evolve toward greater independence, consistent with prevailing governance practices," he explained.
In addition, due to other commitments, Satjiv S. Chahil, former chief marketing officer of Palm, will not stand for reelection as a member of the PalmSource board of directors. Chahil has agreed to assist PalmSource in establishing an advisory board of industry experts and pioneers.
Benhamou will step down from the chairmanship of PalmSource immediately following the annual meeting of stockholders on October 28, the company said in a statement.
Milestones Achieved
PalmSource said it has now achieved several milestones, including the completion of a stock offering that resulted in net proceeds of approximately $59 million, the launch of Palm OS Cobalt, the sixth generation Palm OS, and the signing of four new carrier/operator partnerships worldwide to the Palm Powered Mobile World program.
"Eric Benhamou has been an integral part of PalmSource's strategic separation from Palm, Inc. and the restructuring of the handheld industry," PalmSource President and CEO David Nagel said.
"PalmSource is shifting its focus to the broad wireless handheld market, and will continue to provide leading software products for this growing industry," Nagel said.