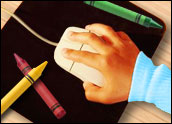 Warner Bros. Entertainment is launching a new multifaceted, multimedia Web site that will let people immerse themselves in, and even play the part of, their favorite Warner Bros., Looney Tunes, Hanna-Barbera and DC Comics characters.
Called "T-Works," the endeavor is being described by Warner Bros. as a "broad-appeal immersive animation experience." The site, to launch in the spring, will offer "unparalleled levels of interaction for the broadest appeal, from watching originally produced and classic library episodes online and playing games to customizing characters and exploring virtual worlds," the company said.
Warner Bros. said T-Works will serve to take its famous animated characters beyond the media where they are customarily enjoyed — television, film, home video and consumer products — and make them come alive online.
An Ocean of WB
The site will be supported with advertising, said Warner Bros. It also noted T-Works will serve as a marketing platform for its whole range of businesses, helping the company "reach audiences in a space and in a manner that's all about Warner Bros."
The new site will be the first time the characters from Warner Bros. Animation, Looney Tunes, Hanna-Barbera and DC Comics will be combined in a single site.
It will feature more than 125 online games, a video section showing both classic and some new cartoons and animations, a video mashup maker where fans can make and share their own "cartoon remixes," a special site for younger fans and their parents to spend time and a "personalization channel" featuring widgets, desktop applications and more.
Be the Bunny
Many of Warner Bros. characters are cultural icons, and T-Works will be permeated with an attitude of openness, said Warner Bros. Fans will be free to customize characters for self-expression and personalization "in order to 'brand' their digital lives anywhere on the Web," it said.
Users, for example, will be able to incorporate a Warner Bros. character to make a custom avatar for use on T-Works and other Web sites such as MySpace and Facebook. "Fans will be able to forge a deeper relationship with the characters than they have ever been able to in the past," said the company.
Viral Marketing = Free Publicity
Warner Bros. is being wise in allowing this free use of its characters, said Greg Sterling, principal at Sterling Market Intelligence.
"I think that, given everything on the Internet we've seen … it's a smart thing to give people some degree of an ability to interact with creative product in some way," Sterling told the E-Commerce Times. "It will help market these characters and deepen fan involvement. There's the conservative approach, which says nobody can touch our intellectual property, and then there's a much smarter approach which says we are going to go with the flow and embrace the trend."
Warner Brotherly Love
Warner Bros. might be acknowledging that successful entertainment today involves some level of social interaction, Gartner analyst Andrew Frank said.
"T-works represents the continuing realization that the entertainment business isn't just about creating great content anymore," Frank told the E-Commerce Times. "Power is shifting to organizations that can also create and manage great social environments for experiencing that content. The challenges of making these environments friendly and safe are significant, and often underestimated."
However, companies that can "leverage the power of social media and package it for advertisers" will rake in the most money during "the inevitable spending shifts that are disrupting the foundations of the media business," he said.
Stirring the Imagination
Warner Bros. executives believe T-Works will benefit the company's creative artists by offering a way for them to work together and develop new ideas.
"T-Works fits perfectly with our overall digital strategy of creating original content online, as well as developing compelling consumer destinations," Warner Bros. Television Group President Bruce Rosenblum said. "T-Works will not only provide a great collaborative opportunity for projects that bridge a number of divisions at the company, but it will also be an invaluable resource in developing and incubating properties that may transcend their online roots and live in other media."