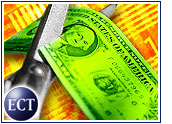 Online car company Autobytel (Nasdaq: ABTL) reported a revenue drop and widening losses for the second quarter ended in June, saying a weak economy caused dealers to curtail their online marketing programs.
New products and stepped-up dealer communications, along with a plannedacquisition, should help results in future quarters, the company said.
Autobytel predicted the loss last week, warning investors at the same time that it probably will not break even before interest, taxes, depreciation and amortization until the fourth quarter of this year. The initial target for EBITDA breakeven had been the third quarter.
Revenue Slips
Irvine, California-based Autobytel said late Thursday that revenue for the quarter ended June 30th fell 8 percent from a year earlier to US$15.7 million. Autobytel's net loss widened to $36.64 million, or $1.80 per share, from$9.78 million, or 48 cents, in the same period a year earlier.
Before charges, the loss totaled $2.96 million, or 15 cents per share.
Latest-quarter results included $33.6 million of charges, including a $21.6 million writedown associated with the 1999 acquisition of Carsmart. Other charges cover the company's European division, which is being restructured, and contract terminations and other costs.
Eyes on Breakeven
Autobytel said it had $37 million of cash and equivalents on hand at the end of the quarter, in addition to $30 million for the European subsidiary.
Cash on hand at the latter division "may be reduced substantially as a result of ongoing discussions with other investors," the company said.
Autobytel president and chief executive Mark Lorimer reiterated the company's goal of breaking even on an EBITDA basis in the fourth quarter, including the operations of Autoweb, a competing online car seller that Autobytel is in the process of buying.
High Hopes
Lorimer said the company will provide further guidance for the currentquarter after the Autoweb transaction closes.
According to Lorimer, the Autoweb acquisition will expand Autobytel's market share and extend its dealer network. In addition, the deal should provide the company with significant manufacturer relationships, Lorimer said.
While car dealers cut back on online marketing spending in the latest quarter, Lorimer said, "new measures" taken in Autobytel's sales and support department should help boost sales.
New Products
Autobytel also plans to introduce new products and services to car dealers and manufacturers. A three-month test of"locate-to-order" online car buying in the Washington, D.C., area that beganin May is working well, said Lorimer.
The results "make a compelling case for the company's continued focus on this strategicdirection," he said.
Autobytel, like many dot-coms that have seen their stock prices plunge, is facing lawsuits from shareholders over the drop. The company, which went public in 1999 at $23 per share and rose to $50 soon after, was trading at $1.01 early Friday. The Q2 results were reported after the close of trading Thursday.