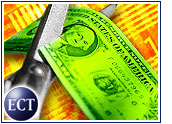 A slowdown in advertising spending by car dealers will lead to a bigger loss than previously expected at Autobytel.com (Nasdaq: ABTL) for the quarter just ended, the online automotive company said late Monday.
Autobytel said it expects revenue of US$15 million to $16 million for the second quarter ended June 30th, with a loss before interest, taxes, depreciation and amortization (EBITDA) of 25 to 29 cents per share and a net loss of $1.75 to $1.85 per share.
When it reported first-quarter results in April, the company predicted second-quarter revenue of $16 million to $16.5 million and a loss of 9 to 11 cents per share.
Autobytel also moved back its expectation for EBITDA breakeven to the fourthquarter from the third. The results for that period will include the operations of Autoweb, a competing car-buying service that Autobytel is in the process of buying. The companies expect to closethe deal in the third quarter, Autobytel said Monday.
Ad Slump
Overall, a weak economy "unfavorably impacted dealer expenditures on online marketing," in the second quarter, Autobytel said. A slow advertising market has also prevented thecompany from selling previously committed television time, and slowed the process of renegotiating terms of some affiliate relationships, the company said.
The net loss for the second quarter will include charges of about $34 million, including $22 million for the writedown of "substantially all" the goodwill associated with the 1999 acquisition of CarSmart, Autobytel said.
European Woes
Autobytel said it had about $67 million of cash on hand at the end of the quarter, about $30 million of which is reserved for Autobytel Europe. The company noted that the cash on hand for the European division "may be reduced substantially as a result of ongoing discussions with other investors."
Excluding European operations, Autobytel.com used about $3.6million in cash in the second quarter.
Autobytel said it does not plan to contribute cash beyond an initial $5 million to its European unit, which is being restructured. The restructuring could require the company to take additional charges, which "may be material," it said.
Dot-Com Bust
Autobytel shares fell 17.6 percent in early trading Tuesday, down 26 cents to $1.22. Autobytel traded at $50 soon after its initial public offering in 1999.
Meanwhile, Autobytel faces competition from AutoNation (NYSE: AN), which has apartnership with America Online. Other rivals include Carpoint, which is operated by Microsoft's MSN, and CarsDirect.com, an Amazon.com partner.
Autobytel president and chief executive officer Mark Lorimer said that with the acquisition of Autoweb, Autobytel is "solidly positioned" to compete in the onlineauto market.
"By building on what we do best — driving online car buyers to dealers and leveraging our expertise in automotive e-commerce to help major industry players negotiate this territory — Autobytel can continue to strengthen its position as a major driver of the future of online automotive commerce," Lorimer said.