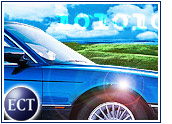 General Motors (NYSE: GM) and Autobytel.com (Nasdaq: ABTL) said Wednesday that they have chosen the Washington, D.C. area to test an online car buying system that will enable shoppers to search all available vehicles and buy from a dealer of their choice.
The 90-day test will begin May 1st and is designed to help GM understand how a national locate-to-order system might work.
During the trial period, the system will display all vehicles available in a geographic area covering southern Maryland and northern Virginia, as well as the U.S. capital. It will also show consumers dealer-set online prices and give them the option of which dealer to buy from.
"Washington, D.C. is an ideal location for this test because it has one of the highest levels of Internet penetration and Internet vehicle shoppers in the U.S.," said Mark Hogan, president of GM's e-commerce group. "This is an area where a large number of consumers feel extremely comfortable with online vehicle shopping and buying."
Chevy to the Levy
The two companies said that the test, which was first announced about a month ago, would focus on GM's Chevrolet line of vehicles.
William Lovejoy, who oversees North American dealer sales for GM, said that model made sense because it offers an "array of products appealing to a wide customer base" and will produce meaningful test results.
Examining Options
GM linked with Autobytel, which offers customers access to all makes and models of cars, to facilitate its pursuit of ways to make e-commerce work for both its customer and its network of dealers, some of whom have expressed concern that the Internet would squeeze them out of the car-buying process.
"We look forward to the feedback from both dealers and consumers," Autobytel.com president and chief executive officer said Mark Lorimer.
Autobytel said last month that in addition to hosting the test on its Web site, it will provide training and Internet-based relationship management applications to GM dealers.
Elusive Answers
Finding the right formula for online car sales has proven difficult to date for both third-party retailers and manufacturers. Earlier this month, GM subsidiary Adam Opel began offering cars for sale direct from the manufacturer on the Web at discounts of up to 11 percent off dealer prices.
In its search for answers, GM has also said it would give customers access to rival carmakers' products through its Autocentric site, a venture in which the automaker plans to share ownership with its network of dealers.