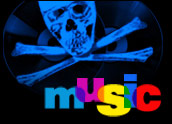 There are reports that Cox and AT&T have begun cooperating with theRecording Industry Association of America's new antipiracy strategy —first announced in December — of targeting illegal file-sharing activities through Internet service providers instead of through the courts.
Once the RIAA identifies someone downloading or uploading copyrighted content, it contacts the ISP, which then forwards a warning to the customer. After three warnings, the customer's Internet access is shut off — that is, if everything goes according to the RIAA plan.
However, it is unclear how closely the ISPs are following this script. For example, Comcast does forward warnings to customers, company spokesperson Sena Fitzmaurice told the E-Commerce Times, but it does not cut off their Internet access, regardless of how many warnings are sent.
"That has always been our policy," she said.
Liz Kennedy of the RIAA did not return a call from the E-Commerce Times.
AT&T and Cox also did not respond to requests for comment in time for publication.
Uphill Battle
The ISPs' participation in the RIAA program will likely take place behind the scenes as much as possible, if only so they can avoid the appearance of siding with the music industry group against against their own customers.
Any customer accused of illegal content trading would find it an uphill battle to successfully argue against the RIAA. Limited resources would likely be one obstacle; fear of the RIAA's erstwhile weapon of choice — mass lawsuits — would be another.
Still, it should be noted that the RIAA does not have a flawless track record — it once accused a deceased person of illegal content trading, for example. The potential for error is bound to resonate with customers as they mull their ISPs' cooperation with the organization.
Negating Safe Harbor?
From a legal perspective, ISPs would be better off not cooperating with RIAA's program, Jonathan L. Kramer, founding attorney of Kramer Telecom Law Firm, told the E-Commerce Times.
"Under the current interpretation of the Digital Millennium Copyright Act, the ISPs have some protection from the actions of their users," he explained. "There were a series of lawsuits that tried to bring ISPs into the legal liability loop, but the courts have held they are not liable for actions of customers — so long as they are not involved in file transfers."
Getting actively involved in the RIAA's agenda could possibly pierce that veil of immunity, Kramer suggested.
"If you agree to work with the RIAA," he continued, "what happens if you miss [a request to notify a customer] or decide to stop reporting them altogether?"
It could open the door for the RIAA to claim that since the ISP was no longer working for it, it must be working against it, said Kramer. "It doesn't make sense to me, as an attorney, why they would work with RIAA when they already enjoy immunity from prosecution on acts of their customers."
Fuzzy Incentives
Given that reasoning, it is worth exploring the incentives for the ISPs to cooperate — albeit as quietly as possible.
An FCC End Run.
The FCC's pursuit of Comcast for aggressive networkmanagement is an ongoing concern for ISPs. Although they are challenging the FCC's right to impose its views on network management, it is possible the ISPs could see the RIAA's program as an effective excuse to give to the FCC, Kramer said.

"It makes the RIAA the bad guys — not the ISP," he said. "If the RIAA is telling the ISP which of its customers is using the [peer-to-peer] sites and to cut them off, then the ISP doesn't have to throttle its customers — it can 'legitimately' shut them down."

It's a backdoor way for the ISPs to throttle bandwidth hogs and let someone else take the blame, he speculated.

Revenue Sharing.

Dave O'Neil, a partner with O'Neil & McConnell,suggested that the motivation may be simply a financial one for the ISPs. "I think some kind of revenue-sharing scheme would be reasonable for the ISPs to request if they are to participate," he told the E-Commerce Times.

Lobbying Maneuvers.

Another, more Machiavellian motive, O'Neilspeculated, would be a quid pro quo on the part of the ISPs. In recent years, the RIAA has been heavily lobbying Congress to limit or scale back the safe harbor provisions of the DMCA. The RIAA is wellconnected on the Hill, and it looked possible at one point that the ISPs were at risk of losing some or a significant portion of the safe harbor provision.

"It may be that the ISPs thought it might be more prudent to cooperate with the RIAA," said O'Neil, "at least on the legitimate concerns of the theft issues, in the hopes that they would back off from attacking safe harbor."