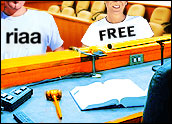 Five years and 35,000 people later, the Recording Industry Association of America has apparently conceded a major battle over music file-sharing. The music industry trade group has decided to stop suing individuals it suspects of illegally downloading music via peer-to-peer Web sites, according to press reports.
However, that doesn't mean the war is over. Instead, the RIAA has reportedly reached agreements with several Internet service providers to restrict violators' service.
A call by the E-Commerce Times to the RIAA was not returned in time for publication; the entire staff was in a holiday meeting, according to the man who answered the phone.
Change of Heart?
The RIAA may have decided to change strategies for any of several reasons, Randy Friedberg, a partner with Olshan, Grundman, Frome, Rosenzweig & Wolosky, told the E-Commerce Times.
For starters, even if its arguments were legally sound, it was on the losing end of a public relations war. "Suing your customers is never a good idea unless you absolutely have to," Friedberg said. Worse — from a public relations perspective — the group targeted some very sympathetic people with its lawsuits, including elderly couples, children and single mothers.
The RIAA might have decided to go after larger distributors of illegal content instead of individuals, Friedberg speculated. Such prosecution would deliver a higher payoff, because it would shut consumers off from their source.
Finally, the RIAA may well have concluded that the economies of its industry have fundamentally changed, said Friedberg, and that it would be better off focusing on developing new revenue models.
Continuing to Watch
Even if the RIAA has changed its focus, it still appears determined to wipe out individual malfeasance in some cases. The association will continue to monitor P2P networks for illegal downloading activities, according to reports. It will then notify the ISPs of its findings, asking them either to warn consumers or, in the case of repeat offenders, to deny access or service.
Much depends on how the ISPs behave. Will they consider any defense a consumer might mount, or will they automatically agree with the RIAA's findings? Even if an ISP should decide to conduct due diligence, this new process would effectively deliver the same results, but at significantly lower cost to the organization.
The Role of the ISPs
The ISPs, after all, have been essential to the RIAA in its long-running campaign. Prior to this new strategic shift, the association had to subpoena an ISP to identify a user it believed to be downloading or uploading illegal content. Given the wide net the RIAA cast, that was an expensive proposition.
"The RIAA has probably realized that in order to continue to fund this war, they will have to require increasingly higher and higher damages from people," Dave O'Neil, a partner with O'Neil & McConnell, told the E-Commerce Times.
Indeed, some of the early legal arguments against the RIAA's tactics were voiced by ISPs that did not want to invoke their customers' ire.
Now, though, as their own business models expand to include digital content, it is likely that ISPs will be more eager to cooperate with the RIAA. Some ISPs have demonstrated a willingness to be very aggressive in keeping consumers away from competing online content.
Earlier this year, when the Federal Communications Commission rebuked Comcast for its network management practices, it cited the competitive threat against its video-on-demand service in explaining why it targeted P2P movie applications.
Privacy and Other Issues
The RIAA's new strategy will likely raise new legal issues, O'Neil added, depending on how much ground the ISPs concede to the RIAA.
"There are some interesting privacy boundaries the RIAA and the ISPs will have to navigate," he pointed out. Also, while most ISPs maintain the right to cut off access for illegal activities, it is not a given that just because the RIAA says someone has downloaded copyrighted content without permission, that the person is in fact guilty.
The RIAA has made mistakes over the course of the last five years, suing a deceased person, among other misfires.
Earlier this year, one of its lieutenants in the war against P2P content trading mistakenly disabled Revision3, an entertainment network for the Web.
MediaDefender, a company commissioned by the entertainment industry, launched a denial-of-service attack against the firm because it suspected — wrongly — that it was distributing illegal content.