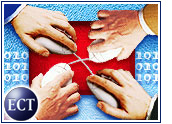 When e-commerce first became popular, it was not long before affiliate marketing sprung up as a way for small-site Davids to drive traffic toward e-tail Goliaths — and make some change in the process. However, as minor players soon found, many affiliate programs were structured so that the house always won, and they were left with empty pockets.
Is affiliate marketing still a viable way to reap revenue without making big investments in infrastructure?
In this post-bubble era, affiliate marketing's image may be a bit tarnished, but some analysts and advocates say the concept should not be dismissed as a relic of a past era. Rather, affiliate programs should be beefed up and expanded, and a number of e-commerce companies are aiming to do just that.
Bad Reputation
The affiliate plan that most big online e-tailers adopted was a simple one: Get more customers by utilizing smaller sites, which usually have a strong, loyal following. As an incentive to drive their visitors to the big guys, small sites would receive a commission on every sale that resulted.
For example, if a hiking site lauded the trail-finder books available at Amazon.com and sent users there to buy them, Amazon would pay the site a cut, usually up to 15 percent of the sale.
As basic as these programs were, however, trouble cropped up quickly. Many affiliate programs were structured so that the referring site had to earn a bounty before a commission was payable. If the bounty were US$250, for example, a 10 percent commission on a $29.95 order would mean the affiliate would need to refer 100 sales before even hoping for a commission check.
Because of this, the concept was deemed a bust around the time that many dot-coms went kaboom.
Second Look
Before writing off affiliate marketing as yet another bad idea that hit the online world, however, some analysts are saying the programs do not deserve the amount of criticism they have provoked.
"It was an interesting trend," IDC analyst Sophie Mayo told the E-Commerce Times. "Some people forget that it was a big driver for e-commerce, and that's why it hasn't really disappeared."
She noted that in her own surfing and shopping experience, she often comes upon affiliates, and she thinks many consumers do not realize how many affiliates there are. This is a sign that the programs are still widely accepted on the Web, and that both shoppers and e-tailers still feel comfortable with the structure.
"It's not something that will go away, because it drives purchases," Mayo said.
Fresh Opportunity
Aberdeen Group analyst Kent Allen told the E-Commerce Times that part of the difficulty in the early days of e-commerce was that the affiliate marketing model itself was flawed, especially in the way it was perceived.
"Then, the thinking was, 'Let's drive as many eyeballs to the site as we can,' and then they'd just hype the hell out of themselves instead of selling," he said. "Those were the days of advertising running e-commerce."
Even with their shadowy past, however, affiliate programs may be able to look forward to a brighter future.
"E-commerce is getting its act together," Allen said, "and in doing that, people are going to be revisiting the affiliate idea. There are lots of small merchants finding success with these programs."
Network Play
Certainly, many smaller e-tailers are willing to give affiliate marketing another try. Allen noted that a recent conference sponsored by LinkShare, the company that first brought affiliate marketing online, was well attended.
Larger e-tailers are not shrinking from renewing affiliate programs, either. Last month, Amazon expanded its Web services program to the United Kingdom, so that affiliates there can display Amazon.co.uk items to visitors.
A similar program was launched for the e-tailer's U.S. affiliates last July. The company now claims an affiliate base of 900,000.
However, even with increased attention focused on new affiliate plays, not all of the kinks have been worked out. A few programs still retain the bounty structure or have an elaborate fee structure that can discourage potential affiliates.
Selling the Idea
Also, there is that image problem. Steven Messner, chairman and CEO of LinkShare, told the E-Commerce Times that the affiliate marketing world is in a bit of disarray.
"There are two camps that have always existed: one that sees the programs as sales networks, and the other that thinks they're just cheap advertising solutions," he said. "Right now, those two are being lumped together."
Messner, an advocate of the "sales network " viewpoint, added that the reason affiliate marketing may have stumbled on the Web at first is because it was seen as something new and therefore less understood.
"This concept has been around forever. It's just commission-based selling," he said. "That's the nice thing about our business — there's nothing new about it. All we did was to take a concept that's been worked to death and put it online."
Now that e-tailers recognize that money likely cannot be made solely from buying keywords on a search engine or increasing traffic, Messner noted, affiliate programs will once again come into the limelight.
"Affiliate marketing is the backbone of the Web," he said. "It's the unsung hero of e-commerce."