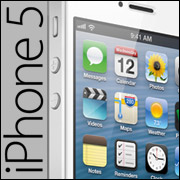 Apple's iPhone grabbed the first place spot in U.S. smartphone sales during the holiday quarter, increasing its lead over rival handsets before Samsung, BlackBerry and other competitors launch new devices this spring.
The company took a 37.8 percent share of the domestic smartphone market during the three months ending in January, according to the latest report from comScore. Apple reported it sold a record 48 million iPhones throughout the holiday season.
Apple's top rival Samsung came in second with a 21.4 percent share, a 1.9 percentage point increase from the previous quarter. HTC fell 1.7 percentage points to take a distant third, with a 9.7 percent share in the U.S. market. Motorola and LG rounded out the top 5 spots.
Google's Android operating system still claims the top platform spot, with 52.3 percent of the U.S. market. Its share dipped 1.3 percentage points during the recent quarter, however, and Apple's crept up 3.5 percentage points. Blackberry, Microsoft and Symbian took the next three spots.
Competitors On Deck
Apple's lead in the U.S. market is a solid one. The competition, however, is learning how to better penetrate the market, and that may show results over the next quarter. said Colin Gibbs, analyst at GigaOM Pro.
"The competition will increase in a big way in the coming months," he told the E-Commerce Times. "Windows Phone will continue to gain gradual traction and BlackBerry will move aggressively with its new operating system."
Unfortunately for Apple, the spring releases of several potential smartphone contenders, such as Samsung's Galaxy S IV and BlackBerry's Z10, coincide with a weak spot in Apple's device release schedule.
"The kink in Apple's armor is they have about an annual product refresh," Ramon Llamas,senior research analyst with IDC Mobile Devices Technology and Trends, told the E-Commerce Times.
Samsung's Rise
That cycle has obviously worked for Apple in the past, Llamas said. As Samsung makes a bigger dent in the smartphone market, though, the company's frequent device launches make it a much bigger challenger to Apple.
"Samsung is really a double threat to Apple, because they'll launch their Galaxy S IV pretty soon, and a few months after that they'll have the Galaxy Note III," he pointed out. "That way they're working with a scheduling pace so they can have a hit now, with Apple at a place without a new phone coming. Once the new iPhone does hit, Samsung will be able to launch its Galaxy Note III."
One of Samsung's biggest accomplishments in securing its current U.S. market position is its aggressive marketing campaign, especially the one focused toward the enterprise consumer, said Llamas. It's not just targeting a stuffy business crowd. In ads that point out some of the best enterprise features — a larger screen with a stylus, photo and video sharing from phone to phone, NFC capabilities — Samsung is reaching out to a new market of on-the-go entrepreneurs and mobile workers who want a smartphone with a mix of flexibility and complexity.
"Samsung is selling its usability," Llamas said. "It's targeting BlackBerry. While historically BlackBerry was seen as the smartphone workhorse that could get the job done, now Samsung is saying it can get the job done as well, but it's also going to be fun. It's branding these new services as their own."
That success for Samsung in the enterprise market is coming at the expense of other U.S. smartphone makers. It wouldn't be impossible for other established companies to move up in the market, but it won't be an easy task, Gibbs noted.
"BlackBerry is a long shot to reclaim that enterprise market," he said. "It will take flawless execution, strong carrier backing and powerful marketing. I think the next six months or so will tell us whether BlackBerry will survive. Windows Phone could still win in the enterprise, but Samsung has the potential to move the needle in a big way."