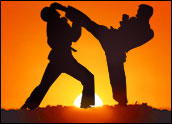 Before Apple and Samsung launched a new chapter in their multicountry, multiargument patent dispute, Judge Lucy Koh of the U.S. District Court for the Northern District of California, told the two sides to sit down and try to iron out their differences.
Apple CEO Tim Cook and Samsung CEO Choi Gee-sung duly complied with the judge's orders, spending at least nine hours in each other's company over the course of two days. The two men — accompanied by their attorneys — presumably discussed their respective bones of contention, but it was all to no avail.
They failed to reach a resolution, according to reports, and they're now headed for trial in California, most likely sometime this summer, depending on the judge's calendar.
Apple and Samsung did not respond to our request to comment for this story.
A Huge Piece of a Huge Battle
The U.S. trial, whenever it begins, will just be one piece — albeit a huge one — of the companies' bitter patent dispute. In a nutshell, each maintains the other has violated its intellectual property in the mobile space, for both software and hardware. The ultimate goal of both firms is to have the other's product banned from certain — preferably all — markets.
To that end, they have duked out their differences in court after court around the world, with Apple winning some motions, Samsung declaring victory in others.
Neither side can be fairly said to have the lead or be the clear victor — or victim — in this dispute, though.
"I have read that Apple and Samsung are engaged in 20 different lawsuits filed in 10 different countries," Klemchuk Kubasta partner Kelly Kubasta told the E-Commerce Times. "There is definitely an ebb and flow to the progress. In this particular dispute, in California, I have not seen or read anything that gives me a sense that one side has the upper hand over the other."
A CEO Meeting
Judges will often order two sides to try mediation before a legal action, Ryan Radia, an analyst with the Competitive Enterprise Institute, told the E-Commerce Times.
Ordering the actual CEOs to try to resolve their differences is a bit unusual, but not unheard of. In fact, the judge hearing the Oracle Google dispute reportedly had Oracle CEO Larry Ellison and Google CEO Larry Page meet face-to-face to try to resolve their differences.
Such attempts usually are not successful though, Radia said. "If companies want to settle or stay out of a courtroom, they don't need to be nudged to do so by a judge."
Given the stakes of this dispute, it is especially unlikely Apple and Samsung would ever voluntarily come to an agreement, he added.
"I think they both feel they have the stronger argument and can win the case," Radia said. "Usually firms settle when one side is clearly weaker and will probably lose in court."
Another Interpretation
It was unlikely the two CEOs would have come to a complete reconciliation, Kubasta said, but there's no reason to assume the talks were a complete loss either.
"With a mediation of this sort, the fact that this first two-day meeting was not successful is not surprising, but just because they didn't reach a resolution doesn't mean they didn't narrow the issues or move potentially closer to a resolution," he said.
"The unstated goal of any mediation is that, even if you can't resolve the matter," said Kubasta, "just streamlining the issues or moving closer on some subjects makes it worthwhile."