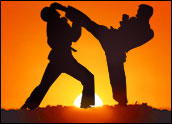 South Korea's Fair Trade Commission is investigating complaints by Apple that Samsung Electronics is abusing its position in wireless technology.
The news, first reported by Reuters, is only eyebrow-raising because of the country in which it is occurring: South Korea is Samsung's home market. Other than that, however, it's part of a recurring pattern. Apple has been pursuing Samsung and vice-versa in courtrooms and legal venues around the globe.
"This is what is known as a full-court press," Christopher M. Collins, an attorney with Vanderpool, Frostick & Nishanian, told the E-Commerce Times.
"Apple, at the moment, has the advantage and wants to press forward to score as many points as possible."
Globetrotting Legal Teams
Samsung lost a legal battle in the U.S. — and lost big — when a jury found that it had infringed Apple's mobile design and user interface patents. The jury awarded Apple US$1 billion in damages. Samsung has vowed to appeal, though, and this particular battle is likely to play out for years to come.
In other venues, Samsung has emerged the victor. A Japanese court ruled against Apple after it made similar claims about Samsung's wireless patent infringement there.
Apple has met with only limited success in Europe, and in one instance, a British judge ordered Apple to publish a statement on its own website and in the UK media stating that Samsung did not copy the iPad. Apple is appealing that ruling.
Indeed, Apple's move with the South Korean FTC is hardly its first legal try on Samsung's home court. A South Korean court recently dismissed Apple's claims, finding that both parties had violated some of each other's patents.
A Psychological Strike
It is easy to see why Apple would try again in South Korea: If it could score a win there it would have a devastating psychological impact on the company.
"It is easy to forget that these huge companies are made up of people like you and me, and they can get discouraged by what is happening," Collins said.
Chances are, especially if Apple were to win an injunction, a win in South Korea would have a painful financial impact on Samsung's operations as well.
Taking Aim at Google
Conventional wisdom has it that Apple's real target is not Samsung, however, but the mother of Android, Google. Driving Samsung into the ground and demoralizing its workforce has a deterrent effect, the theory goes. No mobile device manufacturer would want to touch Android if it thought it would bring Apple's lawyers calling.
What then, to make of the high-level talks reportedly taking place between Apple and Google?
Supposedly there has been at least one phone conversation between Google CEO Larry Page and Apple CEO Tim Cook, supplemented by lower-level executive discussions.
Dissecting the reasons underlying any one play in such a complex, multicountry legal battle is at best a guessing game, said Peter S. Vogel, partner with Gardere Wynne Sewell.
"There is no simple, one answer to what Apple's strategy is with either Samsung or Google," he told the E-Commerce Times, "except to — as always — push for more market share."
Through that prism — more market share — the semblance of a game plan does come forth, though. Samsung and Apple are neck-and-neck — or Samsung is ahead, depending on which statistics you read — in global market share.
At this point, "it is in Apple's best interests to persuade courts around the world not to allow Samsung to manufacture its devices," Vogel said.
Clearly, its legal arguments resonate at least some of the time, so Apple probably has made the legal-financial calculation to push ahead.
Google is another story, especially with its Motorola Mobility patent portfolio as defense — and possibly offense as well.
There, Apple might see itself as better off negotiating a cross-licensing agreement, speculated Vogel.
"Apple has to get real about what they can get in litigation with Google," he said.