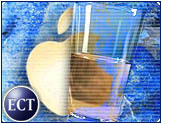 Apple Computer Corp. (Nasdaq: APPL) was up 0.937 at 17.75 in early trading Thursday after the computer maker, asexpected, reported a loss for the first quarter ended December 30th.
Company officials were optimistic about the future, however, predicting areturn to profitability in the current year as it gets rid of excessinventory.
Apple said it lost US$195 million, or 58 cents per share, compared with aprofit of $183 million, or 51 cents, in the year-earlier quarter. Revenuefell 57 percent from a year earlier to $1 billion, and gross margins werenegative 2.1 percent, compared with 25.9 percent previously.
"We took our medicine last quarter and brought our channel inventories backdown to about five and a half weeks," said Apple chief executive officer SteveJobs. The company, he said, is starting the New Year "with a bang," shippingnew products in January, February and March.
"Our cash position remains very strong at over $4 billion, and we areplanning a return to sustained profitability beginning this quarter," saidchief financial officer Fred Anderson. Revenue for the year as a whole willbe about $6 billion, he said.
Apple said it shipped 659,000 Macintosh computers during the quarter, withinternational sales accounting for 49 percent of revenue.
Apple and other computer makers are dealing with a slowdown in demand forpersonal computers. In December, sales were down 24percent from a year earlier, according to PC Data.
Last month marked the fifth consecutive year-over-year decline for the sector, and thesecond month of double-digit drops, according to PC Data. For 2000 as awhole, PC sales dropped 0.8 percent, the first decline ever.