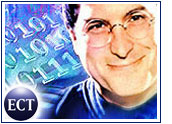 Just one week after global computer chip-maker Intel Corp. (Nasdaq: INTC) startled the high-tech world with a dire earnings warning, Apple Computer, Inc. (Nasdaq: AAPL) announced that earnings for its fiscal quarter ending September 30th will be "substantially below expectations," causing shares in the company to plummet more than 50 percent.
Apple told investors after the market closed Thursday to expect earnings between $1.85 billion and $1.9 billion (US$), excluding investment gains, 33 percent less than company projections. Apple shares had dropped from $53.50 to $25.75 by the end of trading Friday.
The company indicated that it expects earnings per diluted share of between $.30 and $.33 when actual results are announced on October 18th, well below analysts' estimates of 45 cents.
High-Tech Investors Jumpy
Apple, the maker of the popular Apple Macintosh line of personal computers and related software, is not alone with its downbeat report. The high-tech sector has been rocked in recent weeks by similar warnings from other well-known firms, strengthening fears that the entire PC industry is in decline.
Intel's revelation last week that it would miss revenue projections by 3 to 5 percent sent its shares down 20 percent. Earlier this week, Priceline.com (Nasdaq: PCLN) warned that revenue would be 10 percent lower than expected, and its stock subsequently plunged 42 percent.
Eastman Kodak (NYSE: EK) shared a similar fate this week, as did PC manufacturer SCI Systems (Nasdaq: SCI) two weeks ago.
Still, despite the drastic drop in share values, investors had seemed tentatively ready to absorb the warnings. The Nasdaq composite index, after falling for six straight days, rose 3 percent Thursday, only to get the Apple news and drop nearly 57 points Friday morning.
Shortages and Delays
Analysts worry that consumer demand for PCs has hit its high-water mark. Though demand is still rising in Asia and Latin America, growth rates have slackened in Europe and the United States, and the expected rebound in corporate and education sales has not yet materialized.
Though some analysts believe Apple's woes should not be used as a gauge to measure the condition of the overall PC industry, other signs portend bad times ahead.
There have been reports that the expected October 31st delivery date of Intel's new Pentium 4 processors will be moved back to at least November 20th. Intel officials have not commented on the reports.
Part shortages have also hurt such companies as Sony Corp. (NYSE: SNE), which will ship only half of the one million PlayStation2 video game consoles it had initially planned for North American distribution. The games are key to Sony's holiday sales revenue.
Problems Worldwide
The news comes at a bad time for Apple, which has worked hard to convince investors that its volatile past is a thing of the past. Unlike other high-tech firms that have pointed to weaker demand from Europe as a primary reason for sales woes, Apple said its problems are not restricted to one geographic region.
"Three factors contributed to our revenues and earnings coming in below expectations," said Apple chief financial officer Fred Anderson. "First, we experienced lower than expected September sales due to a business slowdown in all geographies. Second, our education sales, which normally peak during September, were lower than expected."
Anderson went on to say that Apple's Power Mac G4 Cube is "off to a slower than expected start, resulting in revenues below expectations."