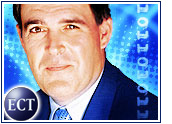 Compaq Computer Corp. (NYSE: CPQ) wasdown 23/32 at 20 13/256 early Wednesday, as the computer maker became thelatest to warn of a shortfall in revenue and earnings for the fourthquarter.
According to the Houston, Texas-based firm,revenue for the quarter is likely to range from US$11.2 billion to $11.4billion, 8 to 10 percent below expectations, while income from operationswill come in at 28 to 30 cents per share, about 8 cents below analysts'consensus forecast.
Like competitors Gateway and Apple, the company is being hit by slowingdemand.
According to chairman and chief executive officer Michael Capellas,Compaq "ended the third quarter with positive market momentum in virtually all of our business segments."
Added Capellas, "While we had a good start to the fourth quarter, it is now clear that market confidence has wavered and that we will be affected by the general softness in U.S. consumer, small- and medium business and dot-com markets. We are taking the actions required to adjust to changing marketconditions," including managing inventories and expenses.
The company also said it expects a non-cash charge to fourth-quarter resultsto account for "downward adjustments in the valuations of some holdings,"principally CMGI, Inc. (Nasdaq: CMGI) and related assets.
For 2001, the company is looking for 10 percent revenue growth and 25percent growth in earnings per share.
"Overall, our outlook for 2001 remainspositive, although we expect the second half of the year to be stronger thanthe first half," Capellas said.
Compaq plans to report results January 23rd.