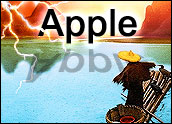 The Beijing First Intermediate Court ruled against Apple in a case that pitted it against a Shanghai-based firm and the country's State Intellectual Property Office's Patent Review Committee.
The court found that the intellectual property rights of Zhizhen Internet Technology, a company that holds several voice recognition patents, were valid.
Zhizhen previously alleged that Apple's Siri product was based on some of its intellectual property. It sued in 2012.
Siri's Chinese Doppelganger
In this particular case, though, Apple had seized the initiative, suing Zhizhen and the Patent Review Committee. It asked the court, in a filing at the end of last year, to determine that Zhizhen's patent for a voice-controlled digital concierge called "Little I Robot" was invalid. Zhizhen received the patent in 2006.
Apple intends to appeal this ruling to the Beijing Higher People's Court.
Meanwhile, the earlier suit Zhizhen filed against Apple in a Shanghai court is proceeding, and a ruling is expected in a few months.
Apple has maintained it was not aware of Zhizhen's patent and did not believe it was infringing the company's intellectual property rights.
It has said it is open to "reasonable discussions" with Zhizhen. Translation: It would be happy to pay a license fee to make this go away.
Leverage for Royalty Discussion
"That is where this is headed, no doubt," said Trip Chowdhry, managing director of equity research at Global Equities Research.
"Apple will simply settle with this company and pay them royalties," he told the E-Commerce Times. The question will only be how much, given Siri's cash cow status at Apple.
No doubt Apple had been hoping to win the case for several reasons. Chief among them, though, was that it would have given it some leverage in future licensing talks.
Apple has had its share of defeats and setbacks in various courtrooms across the globe in recent years. The battle for mobile market supremacy has been harsh, and Apple is often the aggressor in suits in which it alleges its IP has been infringed.
This time, though, it might have found the playing field was tilted too much against it, Peter Toren, a partner with Weisbrod Matteis & Copley, told the E-Commerce Times.
The Home Field Advantage
"The perception has been for years, and continues to this day, that Western companies do not get a fair shake in Chinese courts when it comes to intellectual property rights," Toren told the E-Commerce Times.
"I think the perception is that when the Chinese company is the plaintiff it is something of a lock," he said. "It is a great home field advantage for Chinese companies."
Whether this fits the particulars of Apple's case is an open question. Apple has been on the receiving end — many times and in many courtrooms — of complaints that Zhizhen is now hurling, namely that it infringed a patent in order to develop a wildly popular product.
Still, China has not won any merit badges from the U.S. government for its IP protection. In its most recent "Special 301" Report, the Office of the U.S. Trade Representative included China on its Watch List.