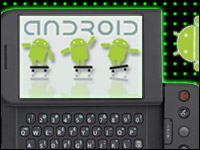 Google is working to let Android users make purchases using their mobile devices at retail points of sale, according to a report in The Wall Street Journal. The company is said to be collaborating with MasterCard, Citigroup and VeriFone on the system, which would be based on near-field communications technology, according to the Journal's anonymous sources.
The project would link Citigroup credit and debit cards to a mobile-payment application that would fit the current Android OS and future iterations, the sources told WSJ. Simply waving a device in front of a reader connected to the system would result in a charge for the amount of the transaction.
For retailers, Google would offer more data about their customers, as well as ad opportunities. For instance, a nearby restaurant could offer a patron a coupon for meal. Google reportedly would not receive a cut of the transaction.
Google did not respond to the E-Commerce Times' request for comment in time for publication.
Apple is said to be working on a similar payment mechanism for its next generation of iOS, although reports vary on the timing and approach it may be taking. Some news reports have said that Apple is holding off because there is no universal standard for near-field communications technologies; others have cited sources that claim the iPhone 5 will carry the technology. Like Google, Apple is not commenting to the media about its plans.
Powerful Competitive Differentiator
Little wonder. A mobile payment option would make Google — or Apple, for that matter — a powerful competitor in the mobile space, said Jonathan Askin, a professor at Brooklyn Law School. This capability would likely give one or the other a clear edge in the smartphone space.
However, the tech piece is only one small part of the challenge, he told the E-Commerce Times, which may account for the companies' silence on the issue.
"The mobile carriers will want their share … and will find ways to thwart deployment unless and until they receive a piece of the revenue stream," said Askin.
PayPal, for example, tried to deploy a mobile payment mechanism years ago but was stymied by Cingular — now AT&T — which was looking to deploy its own mobile payment mechanism, or at least secure a way to share in the profits, he recalled.
Wrangling for Dollars
There does appear to be a behind-the-scenes struggle among the players — the finance companies, the mobile phone vendors, even the security providers — as to how to divvy up the revenues and ad opportunities.
You can bet the consumer is not going to be among the winners, speculated Jason Katz, founder and CEO of Paltalk.com.
Apple will surely take a hefty piece of these transactions if its approach to iAd and magazine and newspaper subscriptions on the iPad are any guide, he told the E-Commerce Times.
"Google will try for a lesser amount, maybe even zero, but at what cost to the consumer in terms of privacy?" Katz wondered. "Banks or debit cards will certainly zing them somehow. Consumers will win with convenience, but I doubt if they realize how much these transactions will really cost them."
Security Angst
All of this assumes consumers want this type of service, which is not a given. Consumers who don't adopt mobile banking, for example, tend to cite security and privacy as the reasons, said Jeff Hasen, CMO of Hip Cricket, referring to survey results.
"There's a great deal of money at play here — and the goal is to convert some of the us$3.2 trillion in annual retail credit charges and associated processing fees into mobile payments," he told the E-Commerce Times. "But until these security qualms are eased — perhaps by capping total purchases to prevent large-scale fraud — usage may not advance beyond the younger consumers who are more eager to adopt such technologies earlier."