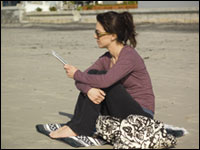 E-reader ownership jumped to 12 percent of adult U.S. consumers in May, doubling from 6 percent in the past six months, the first time sales have been in double digits, according to a new report from the Pew Research Center's Internet & American Life Project.
The growth spurt is outpacing that of tablet computers — there are more adults who own a device such as an Amazon Kindle or Barnes & Noble Nook than those who own a tablet like an Apple iPad or Motorola Xoom.
As e-reader ownership rose, tablets grew at a less booming pace. In May, 8 percent of adults owned tablets, up three percentage points in the past six months.
Three percent of adults owned both an e-reader and tablet device.
The study indicates a widening demographic could be one of the reasons electronic book sales are on the rise. Hispanic ownership rose significantly in the past six months. College graduates, adults under 65 and those with annual household incomes more than US$75,000 are still the most likely to own an e-reader.
Steady Sales
E-reader sales will stay healthy for a considerable time to come.
"We think there's still plenty of momentum. We're projecting that the digital industry will grow at a double digit rate for the next five years," Pete Wahlstrom, a senior analyst at Morningstar, told the E-Commerce Times.
E-reader growth doesn't necessarily mean a decline in tablet popularity, since the two are different products that appeal to different demographics and can even co-exist.
"I don't think that it is necessarily a 'one versus the other' sort of purchase decision. Some households or individuals will have both because they serve different purposes," said Wahlstrom.
Since both are also relatively new to the market, it's not implausible to imagine competitors entering and shaking up the e-reader world a little more. Right now, Amazon and Barnes & Noble lead the pack with their Kindle and Nook, respectively, but with the right price and functions, a hot new product could make a big splash.
"Apple is a fierce competitor, and Sony is also in the e-reader market and has deep pockets. Last year, the talk was that $99 would be the lower end of the price-point scale. Next year, could it be $50, or less," said Wahlstrom.
That lower price makes an e-reader less of a financial commitment and is probably one of the reasons the category's sales are outpacing tablets.
End of Print?
The advent of e-readers has left some in the publishing industry wondering whether the electronic forum means doomsday for traditional publishers and booksellers who rely on — and adore — printed pages.
"Certainly as publishers of books we place a certain value on the printed book, but at the same time, we pay attention to content, and books are a great platform for all types of content. The print book has been the bread and butter of those platforms, but now we understand and acknowledge a bunch of different platforms like e-books, video content and blog content," Brett Cohen, vice president of publishing company Quirk Books, told the E-Commerce Times.
Publishers like Cohen say that now, instead of accepting a submission and assuming it's going straight to the presses, part of the publication process is deciding which medium will work best for the story.
For fiction or other books that are primarily text, the e-reader format works well. But for books heavy on graphics and color, such as coffee table books or science manuals, print or more interactive mediums such as video are able to give the consumer the rich reading experience they expect.
"Some of the books we create can't go to e-readers because that platform isn't up for it as far as the technology in color and graphics, although the technology is certainly moving in that direction," said Cohen.
Despite the rapidly advancing technology and widening demographic for e-reader ownership, publishers say this still doesn't mean the demise of the traditional library and print book that many bibliophiles fear. Giving books as gifts, for instance — a backbone of print sales — isn't the same as handing a friend a receipt for an e-book.
"The print book definitely has a place, and that place is certainly changing, but this is challenging publishers to think more creatively about what's in those printed books and find the balance to take advantage of both opportunities," said Cohen.