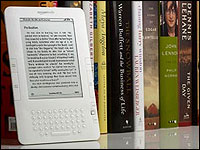 Amazon has reached a momentum milestone: Its customers are purchasing more Kindle books than print books — hardcover and paperback combined. This day was clearly coming. In July 2010, Kindle book sales surpassed hardcover sales. By December of that year, Kindle books overtook paperback books, becoming the most popular format on Amazon.
The company backed up its assertion with some numbers — although, as usual, not all the numbers necessary to do a deep dive into this trend. For instance, since April 1, it has sold 105 Kindle books for every 100 print books sold, including hardcover and paperback books that offer no Kindle version.
A more telling comparison would be sales revenues by category, which Amazon did not provide, although it did specify that its units-sold figures do not include free e-books.
Amazon did not respond to the E-Commerce Times' request for comment.
Fuzzy Figures
E-books are priced lower — in some cases, substantially lower — than their printed cousins, noted Azita Arvani of the Arvani Group.
"So, just like any other product category, the lower prices gets higher volumes of sales. The business question is how the high volume of e-books with lower prices compares with higher-priced printed books with lower volumes," she told the E-Commerce Times.
Amazon alluded to revenues in its announcement, but it lumped all books sold together, regardless of the format.
So far in 2011, the growth of Kindle book sales combined with the continued growth in Amazon's print book sales has resulted in the fastest year-over-year growth rate for the company's U.S. books business, in both units and dollars, in more than 10 years, it said.
Reading Between the Lines
"If I had to guess, I would say because e-book costs are less, Amazon's top-line revenues are likely higher," the Enderle Group's Rob Enderle told the E-Commerce Times. "I would guess that its revenues of e-books haven't crossed over yet [to the point where they exceed the revenues of print books] but profits probably have."
Other hints can be found in the larger publishing industry, said Andrea Belz, president of Belz Commercialization Consulting Group.
"The Amazon announcement is consistent with first-quarter results from trade associations showing that all publishers have seen a tremendous increase in sales volumes," she told the E-Commerce Times.
"The publishing industry is finally following in the footsteps of the music industry and the broader world of copyrighted works, where publishers serve as marketing entities rather than distributors. The inventory and distribution costs associated with digital distribution are almost negligible and thus prices are likely to stay rather flat."
E-Books Rule Publishing?
Leaving the questions about actual numbers aside, the larger impression that Amazon gives is a world in which the ebook is gaining ascendancy over print books.
There may be something to that.
"I have a few book titles, one in particular, that we are handling called Surprised by Love, which is tracking stronger sales on the Kindle versus the paperback version," said Scott Spiewak, CEO of Fresh Impact PR Group.
"That trend seems to be tracking true for other titles we are promoting as well," he told the E-Commerce Times. "With the rise of tablets and e-books, the market is getting a nice shot in the arm, which doesn't hurt."
Reader-Friendly Technology
The technology has become much more reader-friendly as well, Ray Kurzweil, CEO of K-NFB Reading Technology, told the E-Commerce Times.
There are "high-contrast, high resolution screens with wide viewing angles, ubiquitous high-bandwidth communication, platforms that are the size and weight of a book, and the availability of high-quality digital content," he pointed out.
"Readers are now rapidly discovering the benefits of being able to change and optimize their reading view, to search through material, and to instantly share insights and passages with friends — not to mention carrying hundreds of books in a device weighing only ounces," Kurzweil continued. "I know quite a few students who have been carrying around 50 pound knapsacks of print books that are very eager for that one benefit alone."
Indeed, macro trends are favoring the rise of e-books, Arvani said.
"With the ubiquity of mobile devices and the associated screens that surround us, people are feeling more and more comfortable reading on digital displays, even for longer forms like books. That — combined with all the advantages of not having to carry a heavy load, paying relatively lower prices and instant access — has made e-books very popular."