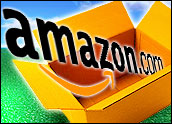 Amazon and the U.S. Postal Service are partnering in a pilot project to deliver packages to Amazon customers on Sundays. The offering will start this week to customers in New York and Los Angeles but will eventually roll out to other parts of the U.S. next year, including Dallas, Houston, New Orleans and Phoenix.
The service is aimed at Amazon Prime members, who already receive free two-day shipping on many items.
"If you're an Amazon Prime member, you can order a backpack for your child on Friday and be packing it for them Sunday night," said Dave Clark, Amazon's vice president of worldwide operations and customer service.
Brick-and-Click Mashup
The new service is the latest overture by Amazon — and e-tailers in general — to woo consumers as competition between the online e-commerce model and brick-and-mortar retailers intensifies and then intensifies some more.
Both camps are doing their best to compete on the other's competitive ground. For instance, while e-commerce providers are still a lower-cost alternative — thanks to the absence of a federal law requiring them to collect online state sales taxes — they can't beat local shopping centers for their convenience.
After all, when a customer wants something, she jumps in the car, drives a few miles and gets it — and can see and hold the item in question before purchasing it to boot.
Still, if a buyer can get an item delivered in 24 hours, that convenience differential is greatly reduced.
Amazon has led the way in these innovations. For example, its locker service, in which consumers can pick up their online purchases 24 hours a day, has been copied by such retailers as Walmart.
Minimal Impact on Weekend Shopping
Now, the Sunday option shows that Amazon has no intention of slowing down its innovation, Alex Campbell, co-founder and chief innovation officer at Vibes, told the E-Commerce Times.
It is at best an incremental improvement for customers, he said, and won't be likely to affect weekend brick-and-mortar shopping because consumers must place orders by Friday.
Still, "it could help Amazon get more of the last-minute holiday shopping, since Christmas falls on a Wednesday this year," he added.
The Next Battleground: Mobile
The bigger lesson, though, should not be lost on competing retailers.
"Overall, this is definitely a sign of things to come from Amazon, and all the more reason retailers need to think about using mobile to drive customers into their brick and mortar stores," Campbell said.
Certainly the news isn't good for brick-and-mortar organizations that aren't positioning themselves for competition, said David Cadden, a professor in the Entrepreneurship and Strategy Department at Quinnipiac University.
"Amazon is looking for any and all means to extend its brand, and this 'alliance' with the Postal Service is a win-win for both partners," Cadden told the E-Commerce Times.
It is doubtful, though, that other retailers won't follow suit at some point, said Amine Khechfe, general manager and co-founder of Endicia.
"This is something I anticipate that other companies wanting to participate in," Khechfe told the E-Commerce Times. "I think it will become an everyday service for a lot of companies eventually."