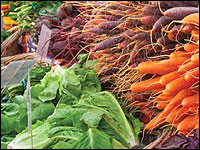 Amazon is rolling out a grocery delivery service that could allow it to expand into a mostly untapped e-commerce market, according to a Reuters report.
The company already runs AmazonFresh, a grocery service that delivers food and home products to several Seattle neighborhoods. A similar service reportedly will launch later this month in Los Angeles, and by the end of the year in San Francisco.
If the service is a hit in those cities, AmazonFresh could roll into 20 more metropolitan areas — possibly including some outside of the U.S. — in 2014.
Amazon did not respond to our request to comment for this story.
Monetizing Groceries
With its dominance over e-commerce in general, it makes sense that Amazon would be eager to cash in on the largely untapped grocery market, said Jerry W. Sheldon, retail analyst at IHL Consulting Group.
"We estimate that food spend comprises about 11.5 percent of overall retail," he told the E-Commerce Times. "This is a big piece of consumer spend, and subsequently worth attempting to develop a strategy around."
What's more, the market is changing enough that groceries ordered online and delivered straight to a consumer's door might not be a luxury in the coming years — it could be a necessity, said Doug Stephens, founder of Retail Prophet and author of The Retail Revival.
"There are 80 million baby boomers in the U.S., almost all of which are between 49 and 69 years old," he told the E-Commerce Times. "Progressively, over the next two decades, these consumers are going to stop driving and will rely increasingly on delivered products, including groceries."
Amazon isn't the first company to break into the space. Internet grocery services like Peapod and FreshDirect, which have been operating for years in Chicago, New York and other urban areas, have recently been enjoying a surge in popularity.
Some big box stores, including Target and Walmart, have been stacking their shelves with grocery products over the past few years, and Walmart is testing same-day and next-day delivery of food products in San Francisco.
Taking Advantage of Name and Data
Amazon's established name as an online delivery company, its infrastructure, and the data it is able to collect on its consumers could give it an edge over competitors, suggested IHL"s Sheldon.
"Amazon is clearly world class in both logistics, supply chain and fulfillment, along with e-commerce," he pointed out.
Like Walmart, Amazon has "been quite successful in using IT as a tool to differentiate," Sheldon continued. "While most grocers … are regional in nature, the Amazon name is well-known and respected coast to coast. Amazon has some of the highest user satisfaction ratings you will find, so they are a known and accepted quantity. This gives them the flexibility of being able to open up shop where they best see fit."
Amazon won't have to jump through any hoops to prove to consumers that it is a reliable delivery service, said Ron Rule, CEO of Coracent.
"The e-commerce process and logistics are second nature to them, and 100 percent of their customers are online shoppers," he told the E-Commerce Times. "A lot of people will try it — and if they have a good experience, they'll use it again."
Amazon has another edge over traditional grocery retailers that might want a piece of the business — it doesn't have to operate brick-and-mortar grocery stores. That automatic cost savings could help put Amazon on a faster track to productivity in a market that has been traditionally low-margin, but the company needs to make sure it maintains a level of service that inspires loyalty to its program, said Retail Prophet's Stephens.
"They need to offer a remarkable level of convenience that they justify premium margins, — somewhat above what a grocery store might enjoy," he maintained.
Amazon needs to use its consumer data and look at basic population demographics to determine where the service would be the best fit if it wants to maintain profitability, said IHL's Sheldon.
What it needs to determine is where it can reach an underserved customer base, as well as achieve significant economies of scale, he observed. "Densely populated urban areas meet both criteria."
If Amazon can discover those markets and take advantage of its loyal consumer base, it could emerge as a threat to the traditional brick-and-mortar grocery stores, said Stephens.
There is "lots of economic and demographic support for this move," he noted, as well as "good timing and good fundamentals."