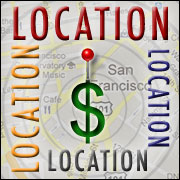 Amazon has acquired 3D-mapping startupUpNext, according to GigaOM, which broke the news earlier this week. Mapping functionality has become a must-have feature for mobile device makers, but that alone may not explain what Amazon is planning for UpNext.
Amazon's tablet, the Kindle Fire, does not sport a GPS radio, and users must download Android mapping apps or access such services via the less-than-stable browser if they want standard functionality.
An Obvious Value-Add
The acquisition of UpNext suggests that Amazon will pay greater attention to mapping in general, and location-based services in particular, in its next device.
The value-add the startup will bring to the Kindle Fire is obvious, Gabe Weiss, director of digital strategy at SapientNitro, told the E-Commerce Times. "UpNext will help enhance the map apps for the Amazon Kindle products by adding visual exploration using their real-time 3D technology."
Indeed, multiple reviews have raved about the UpNext platform, pointing to its fast update speed and strong resolution. Also, UpNext's visual mapping technology provides fly-throughs — again, in 3D — and the ability to zoom into local retail stores for many large cities, Weiss noted.
"The 3D-rich maps will look stunning on the Kindle Fire's brilliant screen," he remarked.
More than Just a Pretty App
UpNext apps, which are available on both the iPad and Android tablets, not only render locations in many cities in 3D, but also display Foursquare check-ins.
The check-in functionality has given rise to rumors that Amazon is planning to step up its daily deal offerings with mapping functionality and at the same time, better compete against eBay.
At the very least, a mapping feature could strengthen Amazon's relationship with its affiliates and partners.
"Amazon and eBay have increasingly started to bump heads, and eBay started to move into retail promotion last year with an online service that could point to stock, specials and the like," Rob Enderle, principal of the Enderle Group, told the E-Commerce Times.
Amazon's purchase of UpNext's mapping technology could be used to create a more sophisticated way to link and direct users to store locations, which would allow for better instant gratification with affiliates, he said.
"This would be a way to broaden their affiliate efforts and better blend their online and affiliate services," noted Enderle, "forming a stronger overall competitor to eBay as eBay becomes a greater threat to Amazon."
Keeping Up With the Joneses
Of course, it may be that Amazon merely views the mapping technology as necessary because everyone else has it too.
Last month Google debuted enhancements to its Google Maps service that include 3D views of various cities and a new tool for gathering Street View images from off-road locations.
Apple is developing its own advanced mapping technology, dropping Google Maps from its forthcoming iOS 6 in the process. Apple Maps will feature 3D as well, along with flyover map views. They will be strongly oriented to local detail, with such features as check-in integration with the review site Yelp.
Then there is Microsoft, which announced it is moving to Nokia's mapping system in Windows Phone 8. Given all this activity, Weiss said, it is only natural that Amazon would want its own proprietary mapping app as a differentiator for the Kindle product line.
"This is ultimately a 'keeping up with the competitors' play," Weiss said. "Amazon must offer a decent map experience and continue to evolve it to provide a differentiated value for their ecosystem. If I bought a Kindle and it didn't include a decent mapping tool, I'd return it. Consumers' expectations are high, as they've already been trained on the value that map apps can provide."
If it's not there, he said, it's noticeable.
Amazon and UpNext did not respond to our request to comment for this story.