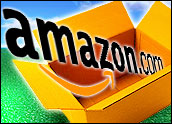 Amazon has moved to acquire Kiva Systems, a maker of robotic equipment that services warehouses.
The purchase will be Amazon's biggest since it bought Zappos.com in 2009. Amazon agreed to pay US$775 million for Kiva, which creates equipment, handling technology and software that helps large-scale vendors control inventory and orders. Retailers such as Staples, Gap, Saks Fifth Avenue and Walgreens also use Kiva equipment.
The robots that Kiva produces could help Amazon increase productivity. Amazon expects the deal to close in the second quarter of this year, at which point Kiva will maintain its headquarters in North Reading, Mass.
Increasing Demand
As an online retailer in a crowded market, Amazon is under intense pressure to keep shipping and supply costs down as demand for its line of Kindle products and other offerings increases.
"Amazon's fulfillment costs are growing faster than its revenue growth, and so is its headcount," Colin Gillis, analyst at BGC Partners, told the E-Commerce Times.
The retailer also pushes its Prime service. As part of that plan, customers can pay $79 per year to receive two-day shipping on most products, also adding pressure on warehouses to remain stocked and centrally located to guarantee shipments go out on time.
Bringing advances in supply technology straight to Amazon's facilities can be an answer to that added marginal pressure, said Gillis.
"In order for them to get positive benefits from scale, they need to put some technology behind the process," said Gillis. "It's a very manual process."
Amazon Ownership
Whether that investment can pay off remains to be seen, agreed Joe Bonner, an analyst at Argus Research.
"It's not initially going to cut down on costs," Bonner told the E-Commerce Times. "But maybe over the long term, if the productivity gains are as advertised, it can help increase revenue."
Since Amazon made the move to purchase Kiva rather than simply license it shows the retailer is ready to make serious headway in increasing profit, Gillis said.
"The company has a possibility to lose money this quarter, and at the size they're at, they should be making more profits," he explained. "It's time to put some technology, not just people, into the process, and that's what Kiva does."
Neither Amazon nor Kiva responded our requests for comment on the story.