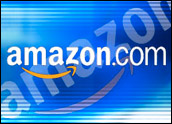 Amazon on Wednesday launched AmazonSmile, a program that will allow shoppers to direct a percentage their Amazon purchase totals to the charitable organization of their choice. Shoppers can choose from a list of nearly 1 million organizations in the U.S. Amazon will give .05 percent of every AmazonSmile purchase to the shopper's selected charity.
The first time that shoppers use AmazonSmile, they'll be asked to pick their charity. After that, donations will be automatic, although users can change the recipient at any time.
There is no cap on AmazonSmile donation amounts, although some products won't be eligible for the program, including auto-renewed subscription purchases, digital products such as mp3s, and Kindle books, although that might change going forward.
Winners All Around
The biggest winner in this initiative will be the charities, said e-commerce consultantRob Abdul, as the weakened economy has slowed charitable giving over the past few years.
However, Amazon also stands to gain.
"This program can go a long way towards enhancing Amazon's brand image in the marketplace," Abdul told the E-Commerce Times. "Charities have had major success and growth by selling on eBay or other e-commerce platforms in recent years. This illustrates clearly that consumers respond generously if they are shown that their money will go to help others."
eBay's Giving Works project allows sellers to donate some of their earnings to charitable organizations.
Initiatives such as these not only help give brands a positive PR boost, but also help shoppers feel better about spending on the donor sites, said Abdul.
Spirit of Giving
AmazonSmile goes a little further than other efforts by letting consumers select from an exhaustive list of charities and by making donations automatic — a good approach for keeping the spirit of giving ever-present on the site, said Abdul.
"0.5 per cent on each transaction will add up to millions," he pointed out. "Giving the consumer the choice of which charity their hard-earned money goes to only adds to the synergistic partnership with the consumer, Amazon and the chosen charity. Other platforms will follow."
Amazon's charitable initiative probably isn't going to draw a significant amount of new users to the site, but it could help to earn a few more dollars from its established customers, said e-commerce strategistRon Rule.
"It will likely get people who are already shopping there to pick up a few more items from Amazon than they otherwise would have," he told the E-Commerce Times, "and feel better doing it."