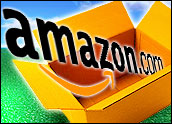 The market digested the earnings report Amazon released on Thursday, and toward the end of trading Friday it was clear investors were less than pleased, with the company's stock down by about 6.5 percent.
Little wonder: Amazon reported that its net income decreased 37 percent to US$82 million in the first quarter, or $0.18 per diluted share, compared with $130 million, or $0.28 per diluted share, in the first quarter of 2012.
The Bright Side
There was some good news in the report. The company's first quarter sales were up 22 percent year over year, reaching $16.07 billion. Amazon also implemented a number of new initiatives in its push to diversify revenues.
These efforts include the launch of Amazon Redshift, a petabyte-scale data warehouse service in the cloud .
Amazon also inked new licensing agreements in the last quarter — with A+E Networks, CBS Corporation, FX, PBS Distribution and Scripps Networks Interactive — which will bolster its streaming video and Kindle-related operations.
It launched the Kindle Fire HD 8.9 in Japan and several European countries.
However, those moves were not enough to soothe anxious investors, as Wall Street demonstrated on Friday
The Long Game
Investors are focusing merely on short-term results, David Cadden, a business professor at Quinnipiac University, told the E-Commerce Times.
"This has led to significant problems for many firms that wish to please the market," he said. "Firms like Amazon are looking to the future. They recognize that long-term value is predicated upon continuous investment and renewal."
Amazon is nurturing several ventures that will allow it to play a dominant role in new areas in the future, Cadden pointed out.
Amazon CEO "Jeff Bezos could be seen as being comparable to Andrew Carnegie," he remarked. "Carnegie constantly reinvested in new technologies in the steel industry. He was able to make America dominant in that industry through his foresight and courage, and by not listening religiously to the call of the market."
Making Sense of the Noise
This has been a tricky quarter for tech investors, noted N. Venkat Venkatraman, a business professor at Boston University. Disappointing results from other companies — particularly Apple — may be coloring their view of the sector right now.
"The market is trying to make sense of the growth trajectories of technology companies in terms of top line and bottom line," Venkatraman told the E-Commerce Times.
"Amazon has always been seen as a growth factory for physical and digital goods, and Apple was seen as one that could maintain profits but innovate new categories. So, Amazon disappoints because top-line did not grow as expected, and Apple disappoints because it has not grown in profits and has not introduced new categories," he explained.
Perhaps more worrisome for investors is the fact that Amazon did not provide much perspective or insight into its longer-term plans in some key areas, Venkatraman said.
Will Bezos launch a set-top box of some kind to lock-in the digital distribution of content? Will he follow Facebook and create an Amazon "home" on phones and tablets to better track and deliver services to customers?
"Those decisions and actions are key," said Venkatraman, "and could provide clues for Amazon's continued growth strategy."