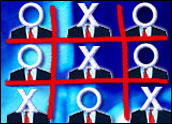 Akamai's stock surged 10 percent Wednesday after sources told Business Insider that Google was aiming to buy the struggling content delivery network company.
Later, a BusinessWeek report cast doubt on the rumors, citing anonymous sources who said no such deal is being planned.
However, it's not the first time Akamai's been at the center of such speculation.
The company delivers online content for huge providers such as Apple and Netflix. Some estimates of the company's footprint indicate that on any given day, Akamai handles about 20 percent of worldwide Internet traffic.
A previous slump in share value and its strategic place in the infrastructure of the Internet make it a frequent subject of buyout rumors regarding companies looking to expand their Web presence.
"It's a popular stock, and whenever you have popular stocks there are obviously rumors," Ilya Grozovsky, analyst at Morgan Joseph & Co., told the E-Commerce Times.
Akamai didn't respond to the E-Commerce Times' requests for comment, and a Google spokesperson declined to comment.
Doesn't Fit Into Google
Google is perhaps a very unlikely bedfellow for Akamai, however.
"Of all the suitors over the years, Google has never made sense to me," Rod Ratliff, analyst at SunTrust Robinson Humphrey, told the E-Commerce Times.
Since Google is primarily in the search and display advertising business, the partnership probably wouldn't be mutually beneficial.
"In the case of an Internet content delivery company, you're trying to figure out ways to reliably monetize content, you're figuring out ways to monetize display advertising, and you have to worry about digital rights management as well, so there are other companies that make a much better fit," said Ratliff.
Who Besides Google?
One name that gets tossed around frequently in Akamai acquisition discussions is IBM. The two already do work together, and two of Akamai's top executives were formerly at IBM, making a potential transitional phase smooth.
"Akamai's delivery mechanism is in business in IBM's cloud services business, and they've got the cash on their balance sheet to write a check for it tomorrow," said Ratliff.
Whomever a potential buyer might be, it could gain a great deal from the company whose wide Web scope is already well-known.
"It has a reasonably attractive valuation and plays a critical role in Internet infrastructure. It makes sense for IBM to pick them up, but that doesn't mean it actually will," said Grozovsky.
Though the timing probably isn't right for any company, especially Google, to acquire Akamai, the small delivery company is likely to stay in the rumor spotlight until a buyout actually comes to pass.
"It is a strategic asset in the global delivery of content over the Internet. They touch a lot of eyeballs, they have a big platform already built and deployed, so the time to market for someone who bought them as a strategic asset is almost instantaneous. They're the biggest, baddest guy on the block, with the biggest geographic footprint," said Ratliff.