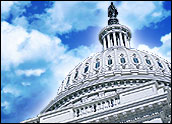 The move to adopt cloud technologies by federal agencies has opened up IT opportunities for many vendors. As momentum builds within these agencies to explore the cloud, support is coming from other quarters.
Last week, for example, by Rep. Gerry Connolly (D-Va.) said that "Cloud computing offers the federal government several potential benefits, including savings related to economies of scale, reduced capital investments, and fewer service disruptions due to resiliency of the cloud compared to a single server or data center."
In a memo to the chairman of the House Oversight Committee's subcommittee on Technology, Information Policy and Intergovernmental Relations, Connolly said the subcommittee should hold hearings and pursue legislation that would require federal agencies to use cloud computing rather than data centers "unless the cost is higher." Connolly wants to enable agencies to consolidate risk and authorization approvals for shifting to cloud data storage and processing.
Multiple Vendors Gaining Cloud Business
As federal cloud conversions unfold, it appears that multiple vendors are getting a piece of the action. That's not to suggest there is an organized effort to share the wealth among various IT providers — it's just the way procurement efforts have turned out.
Two of the latest adoptions involved a host of IT providers. In mid-January the U.S. Treasury Department launched its new Treasury.gov website and migrated several other department websites to a cloud environment. Under a June 2010 award, the project was handled by Smartronix as the lead contractor in association with Synteractive, TMP Government, KPMG, Amazon Web Services and Microsoft.
For the Treasury project, Amazon Web Services' Elastic Compute Cloud was a significant feature of the installation.
"Amazon provided Treasury the capability of having a redundant architecture across the AWS datacenters that also brought a high level of scalability and availability," Diane Litman, acting deputy assistant secretary for information systems at Treasury, told the E-Commerce Times.
"The AWS Cloud enabled us to provide a solution that leveraged their highly scalable backbone between data centers. If an entire EC2 data center goes offline, we can still support all production capabilities. However, it is not only a backup and failover solution. Both data centers are active at the same time and the load is balanced across the data centers," Robert Groat, CTO at Smartonix, told the E Commerce Times. The upgrade utilized a Microsoft SharePoint 2010 platform and involved acceleration capability from the Akamai Content Delivery Network.
The potential value of the contract is US$5 million, but the award, which included modernization and redesign of Treasury.gov and other websites plus 18 months of infrastructure support, was $3.7 million.
Another cloud installation is being implemented at the U.S. Department of Agriculture. USDA will become the first cabinet-level agency to move its e-mail and collaboration applications to the cloud. The contract, which has a potential value of $27 million, was awarded to Dell in May 2010. The Software as a Service (SaaS) deployment includes several Microsoft features including Exchange Online for messaging and calendaring, SharePoint Online for document collaboration, and Office Communications for instant messaging.
USDA will reach service-ready status for the cloud migration by early February and then will phase in the implementation. "The resulting services will augment and eventually replace USDA's internal Enterprise Messaging System (EMS) that was the target environment for consolidating 21 email systems supporting approximately 120,000 staff and support contractors," USDA CIO Chris Smith told the E-Commerce Times.
While determining cost involves a number of variables, Smith estimates that USDA will reduce EMS costs by $6 million per year when the system is mature. The average monthly cost per user will drop from $13 to $8.
Both the USDA and Treasury projects were launched in well under a year, from contract award to installation. "The fact that these websites were migrated and redesigned in a matter of months is a testament to the flexibility and rapid development capabilities provided by the Cloud," Litman said.
Competition Gets Edgy
But even with increasing support for the cloud, competition remains strong among vendors who are using technical tools, legal tactics and enhanced marketing to gain the business.
Google, which took a $6.7 million contract for a cloud-based e-mail system at the General Services Administration last year, asserted that it did not have an opportunity to bid on the USDA contract. USDA said the procurement was handled properly.
Two years ago USDA embarked on a consolidation of its email systems to an internally hosted EMS program. At the same time, USDA engaged in market research, including face-to-face meetings with Microsoft and Google, and pricing was publicly available, according to the USDA. Last spring USDA had 50 percent of its users in the on-premise solution and the agency was committed to building out the rest of the on-premise solution, or leveraging to a cloud solution. Since USDA had a large investment in Microsoft Exchange, Outlook and SharePoint as its EMS standard, it had an opportunity to leverage that capability.
"We were able to parlay our existing license and infrastructure investments to make this economically viable and reduce any business continuity concerns," Smith added.
Google has also challenged the U.S. Department of the Interior's intention to award a contract to Microsoft for a hosted email and related services project potentially worth $49 million. Google claimed Interior's selection process was faulty. In early January, a federal judge enjoined Interior from going ahead with the contract until it reviewed its procurement procedures.
Marketing Maneuvers
On the marketing front, just a day after releasing its cloud-based Dynamics CRM Online offering, Microsoft rolled out a promotion targeted to the government sector noting some specific applications geared toward the federal agencies.
Vendors with a "foot in the door" seem to be well positioned for gaining more cloud business. Amazon Web Services is good example.
"Government adoption of AWS has grown quite quickly. The Recovery Accountability and Transparency Board became the first government-wide agency to migrate to a cloud-based environment when it moved Recovery.gov to AWS in March of 2010. In one budget cycle, the board said that it was able to save $750,000 by moving Recovery.gov to the AWS Cloud. Today, nearly 20 government agencies are leveraging AWS, and we absolutely expect to see this momentum continue," Teresa Carlson, vice president global public sector at Amazon Web Services, told the E Commerce Times.