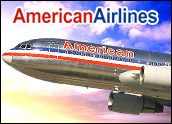 It's fitting that the last stop on my tour of travel-planning Web sites for the E-Commerce Times was American Airlines. The site illustrates all of the problems that spurred this special look at travel sites in the first place.
Travel sites have developed a reputation for being hard to navigate and poorly designed with cluttered user interfaces. Not all of the sites I visited for this series fit that bill, but American Airlines sure did.
After taking an initial look at the busy home page display, I decided to check out a small box labeled "Deal Finder" off to the left.
No Mac App for You
"Deal Finder," a desktop widget that let users input where they wanted to go and what they wanted to pay, might have been useful. When a fare matched the stated parameters, the user would receive an alert. However, Deal Finder was not available to me — or any other Mac user.
I moved onto another box advertising "Fare Sale Alerts." One of the perks of writing this series has been the vicarious excitement I've experienced over trips I will probably never take. The American Airlines site quickly leached the joy from this exercise.
The circa-1990 design (think white space with blue underlined type) was unappetizing. Nor was the section intuitively organized; trips were grouped in unappetizing columns around geography — very loosely defined geography, at that. I clicked on a column offering "Winter Flight Deals Across the US" to see what I could find.
The second page was more lively, although the destinations and flight paths were displayed in plain vanilla. Dallas to Corpus Cristi, Texas, one way: US$76; New York to Tucson, Ariz., one way, $153; Omaha, Neb., to Chicago, one way, $58.
I decided to click on the Omaha-Chicago trip to see the total round-trip fare (my guess was that it would be markedly higher than $120 plus fees if my experience with other sites was any indication). Unbelievably, I clicked for naught; this was not an interactive button.
So I entered the information into the "Book Flights" tool, using Dec. 2 to Dec. 5 as my travel dates.
I was rewarded with two dense panels of information on departing and returning flights. I picked the first two available: Flight 4276 leaving at 12:10 p.m. and Flight 4068, returning at 10:10 a.m. Before I clicked to see the final tally, I observed there was no rhyme or reason to how the flights were organized. Certainly they were not listed by time; the flights following my departure on Dec. 2 left at 9:40 a.m., 4:45 p.m., 6:55 a.m., and so on. If I were really booking a flight for, say, a business trip, and I had a schedule to meet, I would have to do a fair amount of squinting to find an optimal trip. Did I mention there were a lot of flight details densely packed into a small space?
The final fare came up, and for the first time since I logged onto the site I felt positive toward American Airlines. The final fare, at $132.70, matched the deal offer. An awful lot of travel sites do not follow through with their proffered bargains.
Innovative Design
Curious about the rest of the pricing, I navigated back to the main screen to type in my tried-and-true cross-country test: Baltimore Washington International to San Francisco International.
What happened next was somewhat interesting. I clicked on "More Options," and for once saw some originality in the site's design. Taking advantage of the "Dates Flexible" feature, I found I could leave on Dec. 2 on a number of flights with one-way fares averaging $173. Or, if I wanted to leave later, I could easily view the pricing for alternative departures. Dec. 2 was the cheapest day to travel. Leaving on Friday, Dec. 4, I'd have to pay an average fare of $228. Leaving on Sunday, Nov. 30, the tail end of the Thanksgiving weekend, would set me back $1,082, I shuddered to see.
Opting for the cheapest flights I could see, I booked a round-trip ticket for $422, including taxes and fees. Unfortunately, my flight home would be 10 hours long, with a layover in Miami. On this occasion, the vicarious thrill I've been experiencing through booking these pretend trips worked in reverse: I was supremely happy I would not be taking this flight. An alternative, at a $40 higher price, no less, would depart San Francisco at 7:30 a.m., with a layover in Dallas, and arrive at BWI at 8:10 p.m.
There was little elsewhere on the site to spark a positive reaction from me. One thing I liked was the flight notification service, which offered email, voice or text options in choices of one, two, three or four hours from departure or arrival — but that was not enough to make up for the drabness and limitations that seemed pervasive.
Bottom line: My visit to AA.com was a bad trip. Go somewhere else.