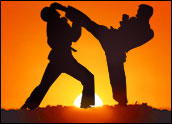 The jury hearing the Oracle-Google copyright infringement and patent violation case rendered a partial verdict in the copyright phase of the trial on Monday.
Although its findings appear to favor Oracle, the jury deadlocked on a key question about fair use, prompting Google attorneys to call for a mistrial.
U.S. District Judge William Alsup will begin hearing arguments on the mistrial question on Tuesday, and expects to rule on the motion by Thursday.
4 Questions
The jurors had to consider four questions before delivering a verdict and, as they warned last week, ultimately were unable to agree on one of them — a key one, as it turned out.
Those questions included whether Google used Oracle's copyrighted material in 37 Java APIs written for Android and, in the event that it did, whether it could be considered fair use.
The jury was also asked to consider whether Google's supposed use of the copyrighted materials was significant.
The jury found that Google incorporated the structure, sequence and organization of Oracle's Java language in the 37 APIs. However, the jurors could not agree whether that constituted "fair use" of the material.
It also found that that Google incorporated nine lines of Java code — namely, the rangeCheck method in TimSort.java and ComparableTimSort.Java.
Still in Play
With no verdict on the fair use question, everything is still in play, Kevin C. Taylor, a partner at Schnader Harrison, told the E-Commerce Times.
However, Oracle still has the edge, he maintained.
It is possible that the judge could shut Oracle down by finding that Google's use of Java does fall under fair use — especially as the jury was unable to answer that question, Taylor said. If that happens, it will be game over for the copyright portion of the trial.
That is not likely to happen, though, he added.
"Fair use is a defense to infringement. However, the burden of proof showing fair use lies, in this case, with Google," Taylor pointed out. "Google failed at proving fair use, in my opinion."
Google based its fair use claim on the argument that the way it used Java was so transformative, it created an entirely new product.
It is difficult to ignore the wild popularity of Android when considering this line of reasoning, Taylor said.
"The commercialization of Java undercuts that argument," he suggested. "Typically, an owner of IP must be compensated for the work if someone else makes money with it. And Google has clearly made money with it."
Google May Win in the End
It is likely that Google will emerge the victor in the end, in the view of Klemchuk Kubasta partner Kelly Kubasta.
"On its face, the verdict does seem to favor Oracle," Kubasta told the E-Commerce Times. "However, I believe the judge's decision not to order the jury to continue deliberations to reach [agreement on] the fair use issue was telling. It is my opinion the judge will do something to render it moot," he said — by ruling that APIs are, in fact, not copyrightable.
Users Must Wait and See
Android users are also in wait-and-see mode.
"Typically with a copyright infringement case, you get injunctive relief," Taylor said. "So depending on how the judge rules, Google will either have to issue a patch to make the components in Android found to be infringing non-infringing, or it will have to reach a settlement with Oracle."
Here again, the judge could save the day for Google. If he rules that APIs are not copyrightable, he could also rule that the nine lines of code in question are de minimis, or not significant, Kubasta said.
Oracle and Google did not respond to our requests to comment for this story.