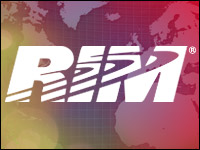 Speaking to developers at BlackBerry Jam earlier this week, Research In Motion CEO Thorsten Heins threw out some hints that the mobile device manufacturer had experienced a good quarter. He was not blustering, as it turned out.
The company delivered better-than-expected earnings, surprising analysts and delighting its long-suffering shareholders. Revenue for the second quarter of fiscal 2013 was US$2.9 billion, up 2 percent from $2.8 billion in the previous quarter, although down 31 percent from $4.2 billion in the same quarter of fiscal 2012.
GAAP net loss for the quarter was $235 million, or $0.45 per share diluted, compared with the GAAP net loss of $518 million, or $0.99 per share diluted, in the prior quarter and GAAP net income of $329 million, or $0.63 per share diluted, in the same quarter last year.
Heins noted — as he did during BlackBerry Jam — that subscribers had increased over the last three months to reach approximately 80 million.
The quarterly sequential improvements do not mask the fact that RIM faces challenges, Heins said. For the remainder of the fiscal year, the company will confront an increasingly competitive environment, lower handset volumes, increased marketing expense associated with the launch of BlackBerry 10, and pressure by customers to reduce RIM's monthly infrastructure access fees, he said.
Nonetheless, good news has been in such short supply for RIM that Wall Street reacted jubilantly to the latest earnings. The stock was up 13 percent in early trading on Friday.
A Timely Reminder
"The earnings are a good reminder that RIM and its products remain highly relevant in those parts of the world where most people live — namely, emerging markets," John Jackson, vice president of research for CCS Insight, told the E-Commerce Times.
In particular, BlackBerry's messenger service is a driver of the ongoing use of RIM in those parts of the world, he continued.
"It's like a lifeblood for RIM," said Jackson. "It's caught fire in key markets like Indonesia. For many people, it has been enough to supersede the obsolesce of RIM's device portfolio."
Another plus for RIM is that the cost-cutting put in place by Heins is bearing fruit without cutting the company to the bone, Jackson observed.
"It appears that its channel relationships have not been compromised by the cost-cutting," he said.
Waiting for BlackBerry 10
Not that it will be clear sailing for RIM, Jackson said. Not hardly. For starters, the subscriber growth it posted is not high-quality subscriber growth.
"It is a lower-margin game they are playing across both product and service revenues," he pointed out.
In addition, none of the advances the company has made will have any bearing on what is widely recognized to be BlackBerry's last shot at survival — the proper execution of BlackBerry 10.
"It still faces a very daunting task with that, as well as competing against Apple, Samsung and a very hungry Microsoft," noted Jackson.
In other words, the growth the company experienced in the last quarter is not going to help it when it launches BB10.
'Smoke and Mirrors'
Indeed, a case can be made that the growth the company posted in the last quarter will not help it in any respect in the big picture. That, at least, is the conclusion of Trip Chowdhry, managing director of equity research at Global Equities Research.
Calling the recent improvements "smoke and mirrors," he said the upward trend is not a sustainable one for RIM.
"After a year of disappointments, it comes out with numbers that are not so bad and everyone celebrates? Nothing has changed strategically for the company," Chowdhry said.
"It is still not ahead of the market, the competition is still out-innovating them by leaps and bounds, and RIM has still lost its magic with customers," he concluded.