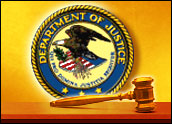 The Department of Justice is reportedly looking into the settlement agreement that Google negotiated with representatives of book publishers and authors to put their works online.
The Association of American Publishers and the Authors Guildfiled a lawsuit against Google some three years ago in an effort to shut down its book-scanning project — or at least get compensation for copyright holders.
The settlement they eventually reached was somewhat controversial; the main criticism was that the plaintiffs in the case represented only some of the authors of works that Google would eventually publish in its Book Search Project.
Internet Archive and Consumer Watchdog are two organizations opposed to the settlement.
Now, it appears that Justice will subject the agreement to further investigation. It has notified Google, the Association of American Publishers, and the Authors Guild that it was looking into theagreement, according to press reports.
Examining DoJ's Motives
It is difficult to analyze the Department of Justice's logic or predict where the investigation will lead without a formal statement from the agency. There is plenty of room for speculation, though.
"In the opinion of some, the Settlement Agreement effectively hands Google a monopoly as to the online and searchable database containing books," Christopher M. Collins, a partner with Vanderpool, Frostick & Nishanian, told the E-Commerce Times.
DoJ is "likely reacting to the criticisms of this potential monopoly over electronically available copyrighted works," he said.
Under the proposed settlement agreement, Google will establish a database through which authors may register works, approve the license of the works through Google, and collect their well-deserved royalties. In many cases, the authors would never have been able to reach the markets that Google will now bring to their doorsteps, Collins noted.
"From my perspective, while the antitrust issues should be addressed, I think that the ability of the average consumer to access previously unavailable works via the Internet is a positive step," he said.
As Collins explained it, the antitrust issue, essentially, is this: Google will control a substantial amount of information. The risk is that Google will decide which selection of materials to make available to the public. On the other hand, Google will not be in charge of deciding what is available on the Internet or what books can be electronically translated for public consumption.
"Google will make a substantial investment of time and money to create this database," Collins pointed out. "Google should, therefore, be able to recoup its investment, plus a reasonable return."
Other Motives
While the exclusivity factor is one possible reason for the DoJ inquiry, there are other possibilities.
The notion of exclusivity is hardly a foreign concept when it comes to intellectual property, Perry F. Sofferman, chief strategy officer and general counsel for Tower Optical Corporation, told the E-Commerce Times.
"The grant of exclusive distribution rights by a copyright holder is common and, by definition, often excludes everyone else from being able to market and distribute a given work," explained Sofferman, who was counsel for publishing company Scholastic before he joined Tower.
"It appears the real concern, in this instance, relates to Google's potential exclusivity over orphan works — works that still fall under copyright protection, but for whom the authors' identity is unknown," continued Sofferman. "I think the real issue is determining who has the right to negotiate exclusive rights on behalf of copyright owners who do not have a seat at the table — because they're missing, so to speak."
If history is any guide, then Justice will most likely require specific reports regarding the electronic content, royalties and, possibly, access to e-books through Google Book Search, suggested Collins. "If authors or the public later challenge the availability of specific material or the payment of royalties, then Justice will likely get involved in a legal solution to this privately funded effort."
Remember Yahoo?
It's not particularly surprising that DoJ is delving into the Google Books deal, Ryan Radia, information policy analyst with the Competitive Enterprise Institute, told the E-Commerce Times. "It has been actively keeping watch on Google for a while. Its deal with Yahoo was essentially derailed because of the looming threat of antitrust scrutiny."
The Google settlement does not have antitrust implications, Radia maintained. "It does not have an exclusive licensing agreement with Web publishers, for instance. Other companies, such asYahoo or Amazon, could negotiate similar agreements."
There are some valid criticisms of the settlement, he allowed, but they are not antitrust-related. Rather, they have to do with intellectual property rights.
"That is not an issue that should involve the DoJ," Radia said.