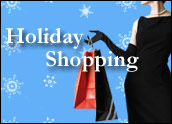 The holiday season may still be more than a month away, but you can be sure marketers and retailers already have visions of sugar plums dancing in their heads.
Consumers are expected to spend roughly US$48 billion on consumer electronics in the fourth quarter, for example, and almost half of that — $22 billion — will come from holiday sales, according to research from the Consumer Electronics Association (CEA).
Marketers are already making their lists and checking them twice. So which products are expected to lag — and which will look nice?
Hot: Computers
Computers are the most-desired gifts among adults this year, according to the CEA's 14th Annual CE Holiday Purchase Patterns study, the results of which were released earlier this month.
The category has moved up from the No. 4 spot last year, and was also high on teenagers' lists, with fourth rank for them this holiday season, Tim Herbert, the CEA's senior director of market research, told the E-Commerce Times.
Computers were even ranked ahead of the desire for peace and happiness, which took the second spot on adults' lists — a strong indication of just how badly the machines are wanted.
TVs: Hot Offline
Third place on adults' wish lists went to big-screen televisions, up from the 11th spot last year. They, too, were ahead of clothes and money, which came in at spots four and five, respectively, on adults' lists.
"We have an HDTV frenzy going on," Harry Wang, a research analyst with Parks Associates, told the E-Commerce Times. "This year they will continue to be a good deal for consumers, and there will be some vendors cutting prices in the next few weeks."
Televisions are not, however, something people are always comfortable with buying online, Herbert noted. "We find the TV category is something people really want to experience firsthand," he explained.
In general, products that have a very strong sensory element, such as TVs and audio systems, tend to be things consumers want to experience in person before buying, Herbert said. "People bring in their own music to test out speakers, for example," he noted. "It's really a twofold approach many consumers use: they do research online, but they use the retail channel for displays and to experience the product."
Along with computers in fourth place, teens' lists included MP3 players in the second spot, video games at No. 3, and cell phones at No. 5 — the same rankings as were found last year, CEA said. Also as before, clothes were in the top spot on their lists.
Hot: Accessories
In addition to asking consumers what they hoped to receive over the holidays, the CEA also asked what gifts they planned to give. Among the top gifts there were video game systems, additional memory for cameras, MP3 players, DVD players and digital cameras.
"Consumers want to connect with others, create additional content, be more flexible and enhance the products they already have," said CEA Economist Shawn DuBravac.
"Many households today desire greater portability and are replacing desktops with laptops," he added. "These laptops can do more than they could a few years ago, facilitating content creation. Video games and other devices are incorporating social networking applications and user interfaces, connecting like-minded consumers around the world. And accessories are enhancing all of these products, making the user experience better than ever."
Accessories for mobile phones such as Bluetooth headsets, for example, could prove hot sellers this year, Wang said, as could PC storage devices and flash memory for digital cameras. "As consumers get more content on their PCs, adding storage is an easier alternative to upgrading the PC," he said.
Saturation is already fairly high in the MP3 category, but there's a good chance accessories for the devices could be hot as well, Rob Enderle, president and principal analyst with Enderle Group, told the E-Commerce Times. "A lot of companies are coming to market really aggressively with accessories for use with the iPod or other MP3 players — these could be a kind of sleeper gift this year."
Hot: Gaming, Digital Photo Frames, GPS
The ongoing popularity of gaming systems also bodes well for another strong year in that category, and Nintendo's Wii looks particularly promising.
"One of the really hot products is the Wii," Enderle said. "It's still under constraint and still selling at a premium — I've never seen a game system a year after launch still selling online at a premium."
Digital photo frames could also enjoy another stellar year, Wang said. "Last year was a home run success for vendors big and small, and this year they're gearing up for another run," he explained.
The products will likely become available a few weeks before "Black Friday," or the day after Thanksgiving, Wang added. "That's when exciting price cuts will happen," he predicted. "Last year an 8-inch model ran about $200, but this year we could see some promotions bringing it closer to $120. That will do well with consumers."
Global positioning systems (GPS) could do well, too, particularly if price cuts bring them closer to $150, Wang said.
Lukewarm: MP3 Players
Accessories aside, MP3 players are a category for which holiday prospects still seem unclear. Video-enabled devices could be hot, Wang said, as consumers may be motivated to upgrade the models they already own.
Overall, though, "the whole MP3 segment has been off its oats, and not moving well," Enderle said. "Everyone got one last year, so there isn't that big drive anymore."
The iPod touch "looks pretty hot," Enderle said, "but a lot of folks are focused on the phone, and people don't buy phones online. It may shift people onto phones and off MP3s."
iPhones also sell primarily in physical stores, he added, but even there, "they're not that hot," he said.
Not: Digital Cameras
The digital camera category is something that has been hot over the last couple of years, but that popularity may be waning as saturation levels rise. "People have a digital camera now, and the justification for getting a new one seems to not really be there," Enderle said.
"There aren't many exciting new features coming out at this point" either, Wang agreed.
The same may be true for photo printers, he added. "Particularly if people buy digital photo frames, they won't need photo printers," he said.
Not: DVD Players, Portable CD Players, Cordless Phones
With the popularity of MP3 devices and smartphones, there will be less demand for portable CD players and cordless phones, Herbert noted.
DVD players, too, may be experiencing a phenomenon much like what's expected for digital cameras, he said. "It's not necessarily that there is a lack of excitement in these categories, but people own these products at such high rates, they won't necessarily continue giving them as gifts," he said. "Now it's more a matter of buying replacements, or buying a DVD player for the guest bedroom," he said.
It remains to be seen how well these predictions hold up, but whichever products end up doing well, it looks like gift-giving will remain strong.
"We found consumers are cutting back on decorations, home purchases and travel, but not gifts, especially electronics," DuBravac said. "The average CE gift giver will spend $358 on those gifts this season."
Retailers, start your engines.