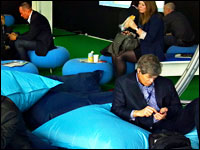 It finally has happened — the number of U.S. mobile subscribers who own smartphones is just about equal to the number who own feature phones, according to new data from Nielsen Wire.
As of Feb. 2012, 49.7 percent of U.S. mobile subscribers carried a smartphone — an increase of 38 percent from Feb. 2011, when only 36 percent of mobile subscribers owned smartphones.
The driver behind this trend was the lopsided adoption of smartphones by mobile phone buyers in recent months, Nielsen said. More than two-thirds of people who bought a mobile device since the beginning of the year have opted for a smartphone instead of a feature phone.
It was only a matter of time before smartphones became a must-have device, Rich Hanley, associate professor and director of the graduate journalism program at Quinnipiac University, told the E-Commerce Times.
"People clearly want to use the mobile platform to consume robust content of all kinds, and that has left the feature phone as an entry-level alternative for mobile voice and text communications," he said.
Feature phones won't disappear, as there will always be a market for low-cost mobile voice and text communications, Hanley noted, but "the smartphone market share will increasingly dominate."
Who Leads?
The question now is which smartphone OS is the dominant one.
Android is leading the smartphone market in the U.S., Nielsen found, with 48 percent of smartphone owners opting for Google's mobile OS.
Nearly a third, or 32.1 percent, of smartphone users have an Apple iPhone. BlackBerry owners consist of 11.6 percent of the smartphone market.
What Are They Watching?
One question that has attracted interest is how, exactly, smartphones are being used.
In some cases, the answers can be surprising, Craig Wax, CEO of Invodo, told the E-Commerce Times.
Overall, 31 percent of consumers have watched product videos on a smartphone over the past three months, based on a recent Invodo survey. Among smartphone owners, that number jumped to 49 percent.
"That surprised us a bit," Wax said. "We knew, of course, that consumers were watching entertainment videos from YouTube on their smartphones, but we didn't realize how high the number was for product videos — especially as this is still an early trend for retailers."
Typically, consumers will watch a product video while in a store as they decide if they want to buy a particular product, he said.
The Growth of Mobile Commerce
Mobile commerce is another driver, especially as people become more comfortable paying for products via their devices, Rob Stringer, VP of marketing for ROAM Data, told the E-Commerce Times.
ROAM Data used to support feature phone functionality with its mobile commerce platform, he said — however, feature phone users would often find making a payment over a feature phone clumsy.
"It is far easier to input data on a smartphone. As more mobile payment options come to market, it will push people to make the jump from feature to smartphone," predicted Stringer.
Among the independent statistics capturing the rise in mobile payments is a recent report from Juniper Research, which forecast that near feld communication systems will facilitate US$74 billion worth of transactions by 2015 — an amount triple the estimated value of the market in 2011.
M-commerce is likely driving smartphone adoption as well. Starbucks, for instance, recently configured its drive-thru payment options to include mobile devices. The consumer makes the payment via the Starbucks app — functionality that has been available for some time in the stores themselves.
Configuring it for the drive-thru took some tinkering however, according to Starbucks, as it had to make the scanner work from a variety of car heights — even when the weather might be acting up.