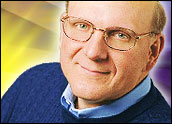 By now the shock is wearing off and the steely-eyed calculations have begun following Microsoft CEO Steve Ballmer's announcement on Friday that he will step down from his post some time within the next 12 months.
"This is a time of important transformation for Microsoft," Ballmer said in an internal email.
"Microsoft has all its best days ahead," he also said.
While few would dispute the former, the latter statement is clearly wide open for debate.
Since becoming CEO in 2000, Ballmer's tenure has included overseeing significant developments in the company's history — the launch of the Xbox video game console and the Bing search engine, for example. At the same time, he also presided over a period in which Microsoft is largely perceived to have lost time and ground in the tech market.
As some see it, in fact, his leadership is the reason for this setback.
Not Agile Enough
"Microsoft desperately needs a visionary leader who will help the organization think differently — and not just keep doing things better," David Nour, CEO of The Nour Group, told the E-Commerce Times.
"Microsoft isn't nearly as agile as it needs to be to match evolving market demands, and it's getting competitive pressure from multiple directions," Nour explained. "Shuffling the deck with a reorg alone isn't going to get you there.
"The organization desperately needs a cultural shift, and if culture is the vision delivered, that vision must come from a fresh lens and voice at the top," he said.
If anything, the way the announcement was unveiled is indicative of the "tone-deaf" approach that has characterized much of Microsoft in its recent history. Announcing that the CEO is leaving without an internal or external candidate waiting in the wings to take Ballmer's place is an "epic failure" in succession planning, Val Wright, principal at Val Wright Consulting, told the E-Commerce Times.
"The decision is the right one, the timing and execution are terrible," she said.
"Ballmer just threw up a deck of cards in the air with his reorganization last month, then announces his retirement just as his leaders are figuring out where the cards are going to land and what it means for them," she continued. "The new CEO will have to come in and quickly decide who they want on their team and build the leadership team."
For that reason, a CEO needs to be found sooner rather than later, Wright said: "The longer the process takes, the more confusion will exist as Ballmer tries to make strategic decisions when his head and his heart are halfway out the door."
Ballmer's Successor
With Ballmer receding into the background, the market is turning its attention to this next, still-mysterious CEO.
Nour dismisses the obvious contenders.
It won't be Mark Hurd, who is a cost-cutter more than a visionary growth builder; besides which, he's doing well at Oracle, he said.
Leo Apotheker, meanwhile, can be safely ruled out as a clear example of a bad hire.
Instead, Nour envisions "a scrappy CEO who remembers how to be humble, hustle, earn every customer vote of confidence and business, partners well, can get very different relationship dynamics to work together by appealing to their logical self interests."
Some Advice
Whoever he or she may be, there will be a number of strategies to pursue — another area in which pundits, observers and of course shareholders are being quite vocal.
Adam Hartung, principal of Spark Partners, for example, urges Microsoft to stop investing in Windows 8 because "PCs are a dying market."
Also to be scratched off Microsoft's to-do list are any and all attempts to build or sell Win 8 tablets and make acquisitions, Hartung told the E-Commerce Times.
Instead, Microsoft should make heavy investments in Kinect and cloud services, he suggested — the latter in particular.
"Millions of Microsoft-certified IT managers are seeking a Microsoft solution for the cloud," Hartung concluded, "so even though they are behind, there is a market here that is growing and where Microsoft can likely catch up."