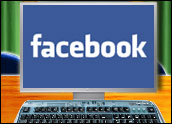 Facebook, thanks to its 400 million status-updating, link-sharing, asparagus-farming, party picture-posting denizens, has risen to the top of the Internet heap once again, surpassing — at least according to one ranking — search giant Google in total U.S. visitors for the third time this year.
Facebook accounted for 7.07 percent of all U.S. Internet visits for the week ending March 13, compared to 7.03 percent for Google, noted Hitwise. Facebook previously bested Google on the weekend of March 6-7, and also on Jan. 1 — not to mention Dec. 24-25, 2009.
Unsurprisingly, Facebook has continued to grow at an astounding clip, the Hitwise data shows, with its share of visits rising 185 percent over the same week last year.
Google's visits, by comparison, grew at a much more sedate 9 percent, the company said.
Content Drives Traffic
Facebook now claims more than 400 million active users, with more than 60 million status updates each day, three billion photos and five billion Web links, news stories and other pieces of Web content shared each week.
All that content is one of the explanations for Facebook's relative growth compared to Google, Hitwise spokesperson Matt Tatham told the E-Commerce Times.
"People are relying on other people for getting their content versus going to look for it themselves," he said.
The company's statistics show that Google's Reader and News products combined account for about 1.4 percent of visits to news and media sites, but Facebook accounts for 3.52 percent of such visits. Overall, Facebook is the No. 4 source of visits to news and media sites.
Reaching No. 1 May Be Meaningful. Unless It's Not.
Facebook's latest traffic surge is "a potentially significant milestone and speaks to how significant a destination Facebook has become," said analyst Greg Sterling of Sterling Market Intelligence. "There's a much higher level of engagement with Facebook than search, but they're different animals."
However, that reputation doesn't mean much if you can't translate the hits into revenue, and Facebook is clearly behind Google on that score.
Facebook is privately held and does not release revenue figures, but industry blog Inside Facebook estimates the company earned US$700 million in revenue in 2009 and will break the billion mark this year.
Google, on the other hand, hauled in $6.67 billion in revenue last year.
It would be a different story if the headlines were screaming that Yahoo or Bing had taken over the lucrative No. 1 search spot on the Internet, suggested Sterling.
Really No. 1?
"It should also be remembered that this is just one data vendor," he said. "Comscore and Nielsen show a different hierarchy.
Nielsen data from December shows Google continued to lead the pack in terms of U.S. visits, with nearly 156 million, trailed by Microsoft, Yahoo and then Facebook, with just shy of 110 million.
Comscore did not respond to a request for data by the deadline for this story.
Whatever the ranking, Facebook will need to continue to evolve its features if it is to continue its meteoric growth and find a way to capitalize on all of those hits, Sterling said.
Facebook recently extended its deal with Microsoft to use Bing to power Facebook searches, but the implementation so far has been lacking, Sterling noted, and a better experience is necessary if Facebook wants to make money from paid search ads.
"Facebook's task is to move beyond being mostly an entertainment and communications site into one that offers more practical utility to end-users," he said. "Unless or until it does so, it won't really challenge Google."