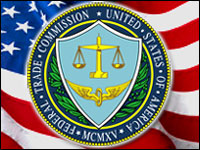 U.S. Federal Trade Commission staff have recommended that Google should be sued for antitrust violations, according to a report in Bloomberg that cites anonymous sources.
A majority of the agency's five commissioners appear inclined to do so, the sources said.
The staff recommendations were made last month; however, they are not likely to be published until after the presidential election, according to the report.
Google's efforts to block imports by competitors Microsoft and Apple supposedly prompted the FTC's decision to consider antitrust charges.
Google claims the devices infringe on Motorola Mobility patents, but the technology in question reportedly is based on industry-standard patents and is to be licensed on fair, reasonable and nondiscriminatory terms.
"We take our commitments to license on fair, reasonable, and non-discriminatory terms very seriously and are happy to answer any questions," Google said in a prepared statement provided by spokesperson Niki Fenwick.
A Global Push Against Google
This is not the only Google antitrust case the FTC is reportedly considering. Earlier this month, Reuters reported that the FTC was poised to launch an antitrust case against Google for using its search engine dominance to hurt competing firms.
Google is also battling European regulators in the antitrust realm in a number of different areas: how it displays vertical search results; how it uses content from competing content providers; its search advertising policies; and how advertisers are restricted from using rival search engines. These proceedings haven't reached the formal stage yet — nor have the FTC's, for that matter. Instead, Google and the EU are in discussions to settle the issues.
"Google is certainly the target of both U.S. and European inquiries for potential antitrust violations,"Peter Toren, attorney for Weisbrod Matteis & Copley, told the E-Commerce Times. It is one of the hazards of being a multinational player with a strong dominance in an industry.
Fair Argument or FRAND?
However, the current allegations against Google regarding its Motorola Mobility portfolio almost seem unfair. After all, Google clearly made the US$12.5 billion acquisition with an eye to protecting its own portfolio and prosecuting violators. Indeed, patents have become the favored weapon of choice in the mobile landscape.
Google will certainly argue that all it is doing is enforcing the patent rights it acquired, Toren said.
That said, if Google is seeking to enforce patents on industry-standard products, that would definitely be the FTC's bailiwick.
Although it may seem to be a black-and-white issue — is a patent industry-standard or not? — it can be a complicated matter, Toren said. "It could be that Apple or Microsoft did not negotiate in good faith for the patent, and Google feels it is in the right."
Either way, expect to see more such suits and perhaps threats by the FTC.
"Industry-standard patents and FRAND requirements are becoming a very important issue in patent law," Toren said.
The FTC did not respond to our request to comment for this story.