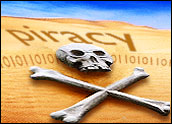 It is the end of an era. One of the last cases in which the Recording Industry Association of America sued an individual for illegal song sharing has reached the end of its road in a federal court in Massachusetts. There, the jury upheld a US$675,000 damages award against Joel Tenenbaum following the directed guilty verdict in his 2009 trial and numerous appeals.
However, the previous judge also found that the damages were excessive for the 31 songs Tenenbaum was found to have illegally shared. An appellate court sided with the RIAA, though, and the Supreme Court did not take on the case.
One More Time?
It is possible that this case may yet still have some life in it: Tenenbaum's attorney has told reporters he plans to appeal the decision. Tenenbaum had requested a new jury trial.
It may not be in Tenenbaum's best interests to get one, though. In his order, U.S. District Court Judge Rya W. Zobel wrote that there was further evidence about the scope and scale of Tenenbaum's infringement activities. "His illegal conduct lasted for at least eight years, from 1999 to 2007. During that time, he not only downloaded but also distributed thousands of copyrighted works to users of peer-to-peer file-sharing networks."
"We are pleased with the District Court's decision," the RIAA said in a prepared statement provided by Liz Kennedy.
A Controversial Strategy
Even if Tenenbaum does successfully appeal, this case, along with a handful of others, represents the last of a series of controversial suits the RIAA filed against individuals in the mid 2000s.
Bent on forcing consumers to stop what it saw as a free-for-all in illegal online song sharing, the RIAA sued a slew of consumers over a period of years for infringement. The vast majority settled without challenging the RIAA; only a handful of individuals, including Tenenbaum and Jammie Thomas-Rasset, opted to fight in court.
The outcry was huge, and it is unclear whether the tactics were ultimately successful. The RIAA quietly abandoned them at the end of 2008 when it decided to link up with Internet service providers. The ISPs were recruited, in short, to serve warnings to customers that are suspected of illegally sharing content. If these customers refuse to heed the warning, so the theory goes, the ISP cuts off their access to the Internet.
"The RIAA policy of suing individuals probably did not make the kind of dent in that activity that the RIAA had originally hoped," Peter Toren, an attorney with Weisbrod Matteis & Copley, told the E-Commerce Times.
And no doubt it was well aware of the animosity that its actions were generating, he continued. "I think that the time it thought it didn't have a choice — that too many people believed there were no repercussions" to online file-sharing.