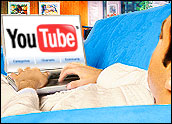 Do you have a video that has the potential to really go viral, like the wedding entrance dance or David after the dentist? Post it on YouTube — notonly for the notoriety, but also for the cold hard cash. At least that is the offer Google, YouTube's corporate parent, is extending to users.
The company is expanding its revenue-sharing YouTube Partnership program to include individual popular videos, according toa blog posting by Product Manager Shenaz Zack.
The partnership program, which Google launched in December 2007, initially focused on prolific users whose videos would regularly reach a wide audience. Google would occasionally extend the program to include one-off videos that tookoff on the site — such as Otters holding hands — which "helped many people earn thousands of dollars a month," Zack wrote.
Winning the Lottery
Under the expanded program, individual videos that follow a similar trajectory presumably will also share in the wealth.
The move will be welcome to video producers — amateur or otherwise — that use the site.
"There are a lot of people who will look at it like playing the lottery," Peter Cohan of Peter Cohan & Associates, told the E-Commerce Times.
"Sure, there's a 99.999 percent chance that no one will watch a video you post. But now there is that slim, slim chance that a lot of people will — and you could make money from it. This program gives people a shot of cashing in on that one small chance that their video will go viral."
The program will also increase the blogosphere's goodwill toward Google, which is taking more hits as it grows.
Google has been criticized for making money off people's YouTube videos and not sharing the revenue it earns, Loren Johnson, industry analyst with Frost & Sullivan's digital media practice, told the E-Commerce Times.
On the other hand, it has also been catching flak — indeed ever since it acquired YouTube — for not being able to properly monetize the site.
"This is a partial answer to both arguments," Johnson said.
Ifs, Ands and Buts
It is certainly not a complete solution. For starters, while the program will surely encourage more people to post videos on YouTube, a direct correlation between that and increased advertising revenue is unclear.
Google has to manually match the videos to advertisers because the potential for an automated platform to place advertising against inappropriate videos is too great, Johnson said.
"Just because a video goes viral doesn't mean it is a good candidate for [an] advertiser," Cohan said.
It is also unclear whether this is such a great deal for content creators, Johnson added.
"If you read the wording of the post, it is filled with caveats, such as 'may' and 'if,'" he pointed out.
"When you upload a video to YouTube that accumulates lots of views, we may invite you to monetize that video and start earning revenue from it," Google's Zack explained in the blog posting. "To determine whether a particular video is eligible for monetization, we look at factors like the number of views, the video's virality and compliance with the YouTube Terms of Service. If your video is eligible for monetization, you will receive an email and see an "Enable Revenue Sharing" message next to your video on the watch page, as well as in other places in your account."
From that point, YouTube will sell advertising against the video and pay a revenue share into the user's Google AdSense account each month, he wrote.
Move Toward Monetization
Expanding the revenue-sharing program to individual viral clips is a step forward for Google, as it seeks to better monetize YouTube, David Erickson, director of e-strategy for Tunheim Partners, told the E-Commerce Times.
"Most of the videos that have truly gone viral are clips ordinary people have uploaded for their own amusement and the amusement of their circle of friends. The recent wedding entrance dance video is anexample of that," he noted.
"Most people who are uploading videos to YouTube are likely not even aware that there is such a revenue-sharing program," Erickson continued. "Giving them the option to earn some money off their upload will be a no-brainer, especially after it's gone viral."