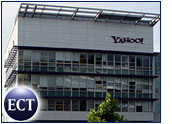 Nearly 10 months after making an aggressive move to acquire struggling Internet portal Yahoo, Microsoft no longer has any interest in buying the company.
At the software giant's annual meeting on Tuesday, Microsoft CEO Steve Ballmer said that Microsoft is "done with all acquisition discussions" with Yahoo.
Ballmer did, however, say the maker of the ubiquitous Windows operating system is open to a partnership of some kind around the two companies' search businesses: Windows Live Search and Yahoo Search.
February Bid
Microsoft made a bid for Yahoo last February, offering US$33 per share, a 62 percent premium over Yahoo's $19 share price at the time. Yahoo's board, led by company cofounder Jerry Yang — who stepped down as CEO Tuesday — turned the deal down.
Yang said at the time that Microsoft's offer significantly undervalued Yahoo. Since then, Yahoo has been hit with one piece of bad news after another.
Yahoo's stock shot up nearly 11 percent on Tuesday when Yang announced he was stepping down. Wall Street interpreted his decision as a development that could potentially increase the chances of an acquisition by Microsoft.
However, in late-day trading Wednesday, Yahoo's stock was down 21 percent to $9.16 on the news that Ballmer had ruled out a full-on acquisition of the company.
Why No Deal Now?
There are several likely reasons for Microsoft's loss of interest in an outright acquisition of Yahoo.
"Microsoft offered a premium at the time because they wanted a speedy transaction closing," Colin Gillis, managing partner at Click Capital Research, told the E-Commerce Times. "There was a level of urgency then that was very important to them. We're about to have a change in the presidential administration here in the U.S., and Microsoft wanted to have this closed before the new one was set up."
Also, Microsoft may have been scared off by the prospect of regulatory resistance in the U.S., the European Union and China, Gillis suggested.
"By the time the deal with Yahoo would have closed, it would be 2010," he said.
Yahoo's exposure to the fraying display advertising market could also be making Microsoft hesitant to buy the company.
"No one expected the degree to which display advertising rolled over," Gillis said. "It happened hard and fast. By refusing to sell, Jerry Yang saved Ballmer from making a disastrous acquisition."
It's also possible that when Microsoft dug deep in its analysis of how a Yahoo buyout would work over the long term, the company decided it wasn't worth the money.
"My point of view is that the difficulty of integrating Yahoo's 15,000 employees would be a huge problem," Matt Rosoff, an analyst at Directions on Microsoft, told the E-Commerce Times. "There are a lot of duplicate businesses, and Microsoft would have been under pressure to eliminate some of them."
Yahoo uses a completely different type of technology to run its servers and data centers, Rosoff pointed out.
"I think some folks thought it might be a good move strategically, but when they looked at it more closely, they saw the costs were going to be higher than they thought," he said.
What Happens Next
With Microsoft and Yahoo both seemingly interested in a deal around search, it seems possible a partnership of some kind could eventually come to fruition.
"A lot of it depends on who Yahoo brings in as CEO," Derek Brown, an equity analyst at Cantor Fitzgerald, told the E-Commerce Times. "What we hope might happen is that when a new CEO is in place, that exec would survey the business and discuss the variety of options with the board. Whoever it is needs to bring a fresh perspective with a different basis for comparison and a unique set of eyes to the problems and the opportunities."
A deal around Yahoo Search and Windows Live Search could cause Microsoft's search advertising revenue to double, noted Rosoff.
"That would be an extra few hundred million per quarter," he said.
A search partnership between Yahoo and Microsoft would also change the search advertising landscape. Instead of the market being split between Google, Yahoo and Microsoft, there would be two powerful players vying for supremacy.
"That increases the likelihood that advertisers will split their advertising between the two companies," Rosoff said.