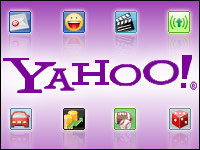 Yahoo CEO Marissa Mayer is putting her money — or rather her shareholders' money — where her mouth is. Mayer has been proclaiming Yahoo's mission of becoming a must-visit daily portal equally accessible via PCs and mobile devices. To that end, the company unveiled a redesign of its website on Wednesday.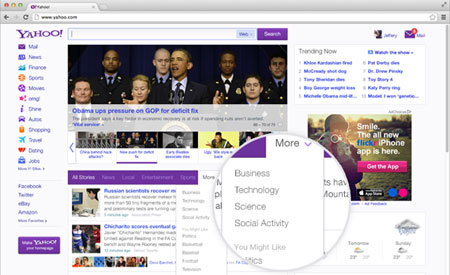 "Streams of information have become the paradigm of choice on the Web," noted Mayer.
Accordingly, the redesign — its first in four years — includes a news feed with an infinite scroll. The news feed is customizable, with topics that range from sports to finance to health — and more.
Yahoo also is making a play for socially minded users, allowing them to log in either with a Yahoo or Facebook ID. As has become the custom online, users can see which articles their friends have shared.
Yahoo also has newly designed applications catering to users who visit the site every day. They include a local weather forecast, Facebook friends' birthdays, and a snapshot of popular trending Web searches.
The overhaul includes optimization for smartphones and tablets as well.
Not Unforgettable?
The new home page is streamlined, designed to correspond with current practices on other sites, and highly customizable. However, it is not particularly innovative or memorable, said Hyun-Yeul Lee, an assistant professor at Boston University. "The visual branding and the aesthetic outcome of the home page — what it looks like, what it feelslike, and how easy it is to use — follows some very basic Web conventions but fails to set a tone that thoughtful design can contribute to innovating the brand, she told the E-Commerce Times. "The home page redesign is not one to remember."
The interface is an attempt at a responsive Web design approach, but it fails in execution, Lee continued, particularly with respect to optimizing the organization of information for presentation on both desktops and tablets.
"From tablet to smaller screen sizes on mobile phones, the most pertinent widget stream ends up taking more of the screen space," she pointed out.
The greatest strengths of the new Yahoo home page are the minimized ad presence, Lee noted, and the way it guides users to their preferences.
Yahoo's redesign may not have to be an eye-popper to be deemed a success, though. It's possible that a comfortable look and feel is exactly what the designers were going for.
Familiarity is important, noted Fadi Shuman, CEO and founder of Pod1.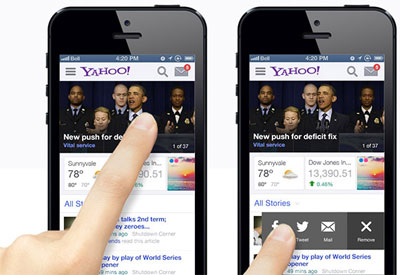 "It's clear they're taking a lead from Google's aesthetic — larger fonts, less noise all over, and a focus on key categories like Mail and News," he told the E-Commerce Times.
"What's even more interesting is that there is only a single banner ad on the entire page," observed Shuman.
Mayer's Clout
The Yahoo redesign represents a much-needed improvement in how it allows users to engage with its massive trove of content, especially on mobile devices, Tony Winders, senior vice president of GumGum, told the E-Commerce Times.
"The new Yahoo is impressive, but the fact that any home page redesign would receive so much attention is surprising. It's a testament to Yahoo's continued clout as a consumer Internet juggernaut and the media's faith in Mayer as its savior," he said.
Although the new personalization capabilities, better use of images, Facebook integration and endless news scroll make for a better user experience, Winders acknowledged, "it's unclear yet how that will translate into ad revenue."